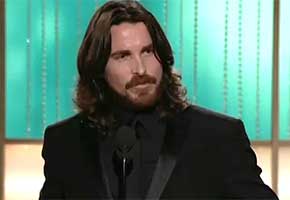 Christian Bale has been all smiles since grabbing Best Supporting Actor trophies at both the Golden Globes and Screen Actors Guild Awards for his portrayal of Dicky Eklund in The Fighter.
But despite all the sincere thanks and seemingly warm persona, the Welsh-born actor has yet to patch things up with his mother Jenny and sister Sharon, The Daily Mail reports. In 2008, Bale was arrested for allegedly assaulting them in a London hotel.
"He still has a lot of unfinished business with his family," said a source. "It would be stunning if he used an Oscar speech to make amends with his mother — but he knew she was watching the Golden Globes and decided not to then."
A source also suggested that Bale might very well skip the BAFTAs. The situation with his family "has soured him to Britain" and he hasn't been back to the UK in quite a while.
Read More
Filed Under: