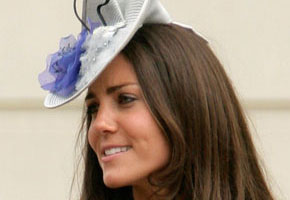 64 days until the royal wedding. Time for Kate Middleton to stop and smell the roses, Brides Magazine deputy editor Sally Kilbridge suggests in this week's Brides Checklist.
As a princess — and eventually, queen — Kate will spend the rest of her life accepting bouquets as she visits hospitals and cuts ribbons. But the most important flowers she'll ever carry are the ones in her wedding bouquet, and they're something she'll want to think about now. Royal brides traditionally carry very grand arrangements — Diana's Edwardian cascade of gardenias, roses, and orchids was nearly as wide as her dress. Kate will have to consider scale as well; a nosegay of wildflowers would look charming in a country chapel, but in Westminster Abbey? Not so much.
We're feeling she'd look fantastic carrying something chic and dramatic, like an arm sheaf of creamy white calla lilies. Or she might opt for a formal cascade of springtime flowers like tulips, lilies of the valley, and garden roses. Or if she wants to take a more modern approach, she could choose a hand-tied bouquet of peonies and ranunculus, the stems wrapped in silk and trimmed with pearls. It seems as though white lilies, rumored to be Kate's favorites, will play a role, and she'll definitely have a piece of myrtle tucked in there as well — this from a tree planted by Queen Victoria in 1840. But with every blooming flower in England at her disposal, choosing the rest won't be simple. Come into the garden, Kate — time's a-wasting!
For more Brides coverage of the royal wedding, click here.
See last week's checklist: To obey…or not to obey?

Read More
Filed Under: