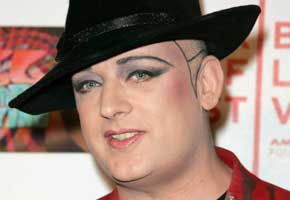 As we already know, there's been lots of changes happening in the X Factor world. Will Cheryl Cole travel stateside to join Simon Cowell for its U.S. remake later this year? Will Cowell return to Britain for season eight? If there's an extra spot open on the UK panel, there is one celebrity who would like to throw his sequined hat into the ring: Boy George.
"There was a rumor last year about me doing 'X Factor' but I don't know if they would want me," the 49-year-old Culture Club singer recently told The Sun. "I would be great, but I'm not sure if they could handle me."
He added: "I'd do it, but it depends how much they would pay me and if I could have Cheryl [Cole's] wardrobe budget."
I think Boy George would make a positively fantastic X Factor judge. He has the talent and panache to match. And if you've ever kept up with him on Twitter, you know he's a cheeky dear who's unafraid to tell it like it us, while comfortable with having a good laugh at himself and with others.
According to one of The Sun's recent polls, it looks like Britons would prefer to see Take That's Gary Barlow over Robbie Williams on the judge's panel next to Louis Walsh and Dannii Minogue this summer. Some fans are also hopeful that Sharon Osbourne might return to the fold as well. She left in 2008 after her much publicized fallout with Minogue.
In other Culture Club news, when chatting with BBC Breakfast last month, Boy George confirmed that 2012 would definitely see the new wave foursome reuniting for a new album plus a worldwide tour. Awesome!
Read More
Filed Under: