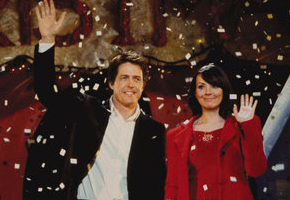 My wife laughed when she heard that anyone had asked me for any kind of advice about Valentine's Day. They're just looking for some cool British-themed stuff, like movies and books, I explained.
"Even if I can actually drag you to a romantic movie, you fall asleep," she said. "You think chick-lit is chewing gum."
So it's a good thing there were some other folks around BBC America to ask for some last-minute Valentine's recommendations.
Anglophenia's film columnist, Leah Rozen, came up with a movie immediately.
In an e-mail, Leah recommends 2003's Love Actually: "Colin Firth, Hugh Grant, Chiwetel Ejiofor and Liam Neeson all in the same movie? Be still my heart. Those four, plus such accomplished scene-stealers as Alan Rickman, Bill Nighy and Emma Thompson, star in an appealing ensemble comedy that follows the love stories (some of them bittersweet) of eight couples. This one puts even the worst cynic in touch with their inner sap. Richard Curtis, who wrote Notting Hill, wrote and directed."
Music expert MacKenzie Wilson chose an album by singer-songwriter PJ Harvey.
"If you want to get your groove on this Valentine's Day," MacKenzie writes, "dig deep into Polly Jean Harvey's rich catalog for her dramatic 1995 set, To Bring You My Love. It's both sexy and lush in unabashed passion. It's everything Valentine's Day should be, right? Keep an ear close to the sneaky near whispers of 'Working For the Man' and the raw power of 'C'mon Billy.'"
Alison Rothbaum from the BBC America Shop offered a number of Valentine's Day suggestions.
For TV series, Alison recommends the "sexy, hip show" Sherlock: Season One with heartthrob Benedict Cumberbatch and Downton Abbey: Masterpiece Classic, which she calls an "awesome upstairs/downstairs-type show, with romance at both ends of the staircase."
For a more traditional Valentine's gift, Alison suggests a Marble Heart Necklace, available in the BBC America Shop: "A heart for your lady!" she says, "Made with that green Irish marble!"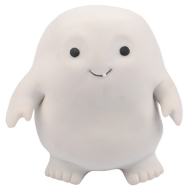 But Alison goes for some more non-traditional ideas as well. She says you and your special someone can sip coffee (or tea) together with Dunoon Union Jack Mugs. Or, she advises, "You can take good care of your honey" with a Keep Calm and Carry On First Aid Kit.
But nothing says "I love you" like a Doctor Who Adipose Stress Toy. And, adds Alison, "It's something cute to squeeze!"
She also points out that there's a special Valentine's Day boutique in the BBC America Shop.
My wife, Sarah was also eager to help out with recommendations. She suggested David Lean's 1945 bittersweet classic Brief Encounter, which stars Trevor Howard and Celia Johnson as two strangers, married to other people, who meet in a train station.
Sarah also mentioned journalist Allison Pearson's most recent novel, I Think I Love You, about a teenage girl's crush on David Cassidy and how it plays out throughout her entire life — a premise that had its basis in Pearson's own obsession with Cassidy.
Finally, Sarah suggested undergarments from Marks & Spencer — she says that's where everyone in England buys their underwear, and she told me the British department store now sells to the U.S. through its website. I figure I have my work cut out for me.
What would you suggest as a great Valentine's Day gift for the Anglophile?
Read More
Filed Under: