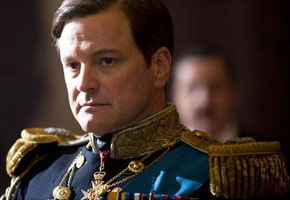 After Ricky Gervais took it in the chin for his "mean-spirited" hosting job at
January's Golden Globes, the 83rd annual Academy Awards tried to make sure Sunday evening's (February 27) show from Hollywood's Kodak Theater was, er, ultra friendly.
To make a long story short, hosts James Franco and Anne Hathaway, or should we say the "guy from General Hospital" (thank you Morgan Freeman) and Anne, the tap-dancing brown duck were awkwardly superimposed in clips from each of the year's top film honorees during the show's opening. Hathaway went all Beantown when spoofing The Fighter, while Franco greeted the The King's Speech crowd with "What's up!" Last year's co-MC, Alec Baldwin summed it up, "you just got Inception-ed." Sound strange? Well, yes, it definitely was. Um, perhaps they should have tried Gervais' suggestions after all?
Moving on … Christopher Nolan's Inception picked up the night's first gong for Best Cinematography (and later reigned in the Sound Mixing, Sound Editing, and Visual Effects categories). The Fighter's Melissa Leo was certainly in complete shock and awe when picking up the award for Best Supporting Actress. She apparently delivered the first F-bomb (seriously?) in the show's history, while beating out our favorite Helena Bonham Carter.
The King's Speech quickly got back in the game when David Seidler was awarded Best Original Screenplay. The British-American playwright humorously nodded to Queen Elizabeth for keeping him out of the "Tower of London for using the Melissa Leo F-word" in the film. When taking the Best Supporting Actor Oscar for his fantastic portrayal of boxing trainer-turned-junkie Dicky Eklund in The Fighter, Christian Bale assured the audience, too, that he wouldn't drop an F-bomb like his co-star did earlier, as "he's done that plenty before." The Welsh-born thespian, looking great with a full, ginger beard and shorter locks, also thanked his wife, his "mast through the storms of life," and daughter, getting a little misty-eyed in the process. Well done, Mr. Bale, well done.
A beautifully pregnant Natalie Portman was all tears when accepting the Best Actress trophy for Black Swan. While she was lovely in thanking everyone she's possibly ever known, we kind of wish her weird giddy laugh from her 2011 Golden Globes speech had reappeared.
And while they were expected to rule all with their 12 nominations, The King's Speech only ended up with four. David Fincher's The Social Network, which earned Aaron Sorkin an Academy Award for Best Adapted Screenplay earlier in the night, bested the historical period film for Best Original Score, composed by Trent Reznor and Atticus Ross, and Best Editing. But in a surprise upset, English filmmaker Tom Hooper won for Best Director. He humbly paid tribute to his Mom and his "triangle of man love," which refers to himself, Colin Firth and Geoffrey Rush. The film's fortunes carried on for the remainder of the ceremony, taking Best Picture and Firth winning for Best Actor. "I have a fear my career's just peaked," he joked. He was incredibly eloquent and witty, a total professional. (Take a look back at Firth's career in clips here).
Other highlights: The stunning Florence Welch of Florence and the Machine joined Oscar-winning composer AR Rahman to sing Dido's part on the achingly beautiful "If I Rise," as heard on the 127 Hours soundtrack. But it seemed like the performance barely lasted a minute.
Oh Banksy, where were you tonight? Even though the Academy denied your wishes to go incognito should you have picked up a shiny gold statue for Best Documentary Feature, we kind of figured you'd pull something. Franco and Hathaway could have used your help.
For a complete list of winners, please visit Oscar.go.com
Did you watch the 2011 Academy Awards? If so, what did you think of the show?
Read More
Filed Under: