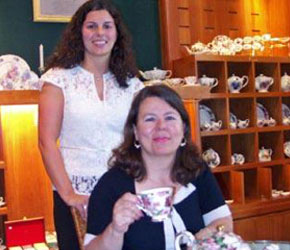 As she plans her royal wedding party, Kathleen Kern of Cincinnati, Ohio can't quite decide on one crucial aspect. Should she hire actors to play Prince William and Kate Middleton? Or will it be enough to have the TV on, featuring the couple as they walk up the aisle at Westminster Abbey?
"I'm on the fence," says Kathleen, the owner of Churchill's Fine Teas. For this devoted fan of Princess Diana, the wedding of her son William is a hugely important event. "I felt very attached to Diana and so I feel very attached to her son. I hope he can change the course, after all those royal marriages that haven't worked," Kathleen reflects. "People I talk to are rooting for William and Kate. They think they're meant for each other, they've blossomed. They're royal in their manner but independent."
Related story: Kate is 'The lady in red' for St. Andrews visit
Kathleen is planning a royal wedding party and champagne afternoon tea – black tie optional, tiaras encouraged. "I want people to dress up and feel like they're at the wedding," explains Kathleen. There will be wedding music and actors playing Prince Philip and the Queen – plus, of course, the all-important wedding photographer. Tickets are $150 each. So how much interest is there? "I'm selling tickets!" laughs Kathleen. Proceeds from the party will benefit two local charities, one of which is for the homeless, a cause championed by Prince William.
Related story: William and Kate make first official public appearance in North Wales
Kathleen, who's British and now holds American citizenship too, used to have a tea shop with a room dedicated to Princess Diana. It featured portraits, books, calendars, magazines, and commemorative china featuring Diana. "It affected me when Diana died, and it felt right when I did the room to embrace her as part of it – the customers loved it," says Kathleen. When the traveling exhibition from the Spencer family home, Diana, A Celebration, was in nearby Dayton, Kathleen invited Earl Spencer, Diana's brother, to one of her afternoon teas. He agreed to come if the proceeds went to charity.
Related story: WATCH: Colin Firth, other British Oscar hopefuls have their say
April 29 is an important day for Kathleen. "I want to celebrate because I won't be there. People come in, they hear my accent and say are you doing anything for the wedding, and I say of course!" she explains. "Everybody's hopeful – William is so wonderful, so down to earth, he's for charities, he's relaxed, and Kate brings a nice touch to it all."
In a corner of Cincinnati, thousands of miles from Westminster Abbey, Kathleen Kern will be the cheerleader for William and Kate's wedding.
Join BBC America's Royal Wedding Facebook page: http://www.facebook.com/TheRoyalWedding
For more royal news, follow BBC Royal Wedding on Twitter: http://twitter.com/bbcroyalwedding/
Laura Trevelyan is a BBC correspondent based in New York.
Read More
Filed Under: