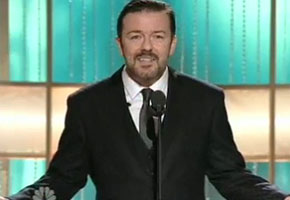 That big meanie Ricky Gervais made a lot of Hollywood types upset with his scurrilous jibes at the Golden Globes back in January. But ho no, my friends. He's not done.
As you may have read in The Hollywood Reporter, Anne Hathaway, co-host of Sunday's (February 27) Oscars with James Franco, says you won't hear any mean jokes from them. "I can guarantee that if you're looking for someone to call people out, we're not your hosts… Also, I don't mean to sound overly serious, but I am the youngest host in history and I have no business being cynical or calling anyone out. I certainly haven't earned the right to do that." Sounds like a smart lady to me.
But if Ricky Gervais had his druthers, he wouldn't let Ms. Hathaway and Mr. Franco get away with the Pollyanna act. On his blog, Gervais has written his own Oscar opener for the shiny young pair, and it's laced with all kinds of hilarious viciousness, mostly aimed at himself.
Here's an excerpt:
JF
…
You know Ricky Gervais used to be bulimic.
AH
Really?
JF
Yes. He'd often gorge himself for hours with cheese and cakes.
AH
And then vomit right?
JF
No he left that bit out…
(Mild laughter)
AH
That's because he couldn't get his fat f**king fingers in his stupid mouth.
Nice. Hey Piers Morgan, now this is what you call "dangerous"…
Read More
Filed Under: