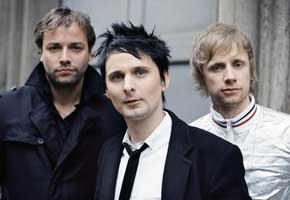 Sunday night's (February 13) telecast of the 53rd annual Grammy Awards, held at the Staples Center in Los Angeles, was one of the most random ceremonies in recent years. But isn't that why we watch year after year? We somehow still crave the show's chaotic excitement. And somehow we're still thriving on the eclectic energy that comes together when various genres and scenes come together in one room. Tonight, several British acts were a memorable part of that.
Kicking off the evening was a lovely tribute to the one and only Queen of Soul, Aretha Franklin. Our dear Florence Welch of Florence and the Machine joined the likes of Christina Aguilera, Jennifer Hudson, Martina McBride and Yolanda Adams for an entertaining medley of Franklin hits, including Welch's terrific interpretation of "Think".
Muse showed up their rock elders Jeff Beck, Tom Petty, Neil Young, and Pearl Jam in the Best Rock Album category for their first-ever Grammy. Their smoldering performance of "Uprising" lived up to the British trio's signature live prowess, but was anyone else caught off guard by the rabble-rousers who joined them on stage in the beginning? Talk about some sly juxtaposition versus mass media.
http://www.youtube.com/watch?v=OfMMiclLkUM
In what was a seemingly bizarre CBS cross-promotion with David Letterman from his Late Show desk, the gap-toothed comedian offered a hilarious Top 10 list prior to introducing Anglophenia favorite Mumford & Sons. The English folk quartet's rousing delivery of "The Cave" was such a solid contrast to the overall night's predictable pop spectacle. Their much tweeted about collaboration with Bob Dylan, alongside The Avett Brothers, on the Dylan staple "Maggie's Farm" was gritty, raw, and totally fantastic.
http://www.youtube.com/watch?v=7HlUEnNMVaU
Additionally, a handful of other Brits were awarded Grammys during the pre-show festivities. Sir Paul McCartney's "Helter Skelter," from his 2009 live effort Good Evening New York City, earned the Beatles legend his first solo Grammy gong since 1972's "Uncle Albert/Admiral Halsey." Sade won for Best R&B Performance By a Duo or Group With Vocals for "Soldier of Love," while Jeff Beck grabbed three trophies, including one for Best Pop Instrumental for "Nessun Dorma." Brixton-bred electropop outfit La Roux took top honors in the Best Electronic/Dance Album category. Dame Julie Andrews also won the Best Spoken Word Album for Children album and was recognized with a Lifetime Achievement Award.
Shocker of the evening was undoubtedly Esperanza Spalding's win for Best New Artist. What a wild card! The American jazz vocalist and musician bested both Mumford and Sons and Florence and the Machine, but we kind of thought Justin Bieber would take this.
And it was supposed to be a huge night for Lady Gaga and Eminem. The Detroit-based rapper topped the nominations list with 10, but his 2010 LP, Recovery, only ended up winning two; Best Rap Album and Best Rap Solo Performance. As for Gaga, the chart-topping pop diva, who tore it up with her new single, "Born This Way," was up for six awards. While she only took home half, including Best Pop Album for The Fame Monster, she stole the show by arriving in giant egg.
Other standout moments: Janelle Monáe absolutely slaughtered it during "Cold War" with Bruno Mars and B.o.B. Cee-Lo channeling Elton John with a dash of George Clinton was beyond stellar during a tamed version of "F*** You" a.k.a. "The Song Otherwise Known As Forget You." And you can't go wrong with Gwyneth Paltrow and a bunch of Muppets, right?
We gotta give it up for Mick Jagger, too. Clad in an emerald suit coat and tight-fitting black pants, the Rolling Stones frontman, still incredibly limber at 67 years old, once more reminded us how to get your rocks off with his jubilant rendition of Solomon Burke's "Everybody Needs Somebody to Love."
All hail Arcade Fire for their epic performance of "Month of May." And even better that the Canadian indie rock upstarts picked up Album of the Year for The Suburbs from Barbra Streisand and Kris Kristofferson and then ripped into "Ready to Start." We're a little surprised, honestly. But it was a stunning and well-deserved moment for them.
http://www.youtube.com/watch?v=QGh9GrlSe0Y
Did you watch the Grammy Awards? If so, what did you think?
Read More
Filed Under: