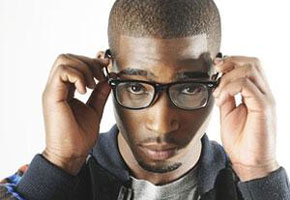 Once upon a time, the Brit Awards was a showcase of appalling presentation, terrible behavior, bum-wiggling at megastars and acting the giddy goat in front of the entire country. And for this, we loved it. This year's ceremony was not like that. It was nice, and if you're Tinie Tempah or Arcade Fire, it will have been very very exciting indeed, but it was not wild.
Here's our account of the evening's events. Events which appear to have been kept ruthlessly under control from the stage, to prevent any of that vulgar rock 'n' roll behavior spoiling things for everyone.
The very first thing that happens is Take That sing their song in front of a dance troupe in police riot gear. Clearly this is an attempt to scare everyone into behaving properly.
As a result, the Best British Male Solo Artist winner, Plan B — a man who looks like he can handle himself well in a fight — gives a surprisingly polite speech, with a lot of thank-yous. What a nice boy.
And if the riot squad wasn't scary enough, Adele's performance of "Someone Like You" then silenced the entire arena. A pummeling start to proceedings.
So it was just as well Tinie Tempah took the Best British Breakthrough award when he did, especially as it was one of two he said he particularly wanted to go home with: "I've got a Brit Award, guys!" Aww.
Best International Album is then awarded to Arcade Fire for The Suburbs. Win Butler takes to the stage wearing the tattooed brother to Tinie's white suit jacket, only his is grubbier.
Rihanna performed a medley in front of a white string curtain, starting off in a silky red dress, and finishing with a laser-guided catwalk stride around in her underwear. And that's when the massed drummers came out and she set the stage on fire. So now we have to call the fire brigade too.
http://www.youtube.com/watch?v=0EobjtO1_18
Then Mumford & Sons divided that fire into a thousand candle points of light, and stood around a single microphone and had a sing-song. That, my friends, is showbiz.
Jessie J improvised a tearful speech to accept her Critic's Choice Award, which is strange because she's the only one who already knew she had won.
Then Cee-Lo wins Best International Male: "My heart is racing" he says. But luckily no ambulance was required.
Best British Single? Why that'll be Tinie, and that'll be the other one he really wanted. He holds up the entire ceremony until his production partner Labrinth can join him onstage, but he doesn't make it. Poor Labrinth.
Best International Group is Arcade Fire. Or THE Arcade Fire, as Win Butler called them, when explaining who they are to the bewildered Justin Bieber fans in the audience. Apparently this is significant.
Taking a leaf out of Tinie's book, Justin attempted to share his International Breakthrough award with Mike, his label's artist liason operative in the UK. He must've been in the same locked toilet as Labrinth. So now we need a locksmith.
Laura Marling should really have won the Least Comfortable Female In Showbiz award, as she squirmed her way through a strained acceptance speech for Best British Female Solo Artist. There again, her ex is Marcus Mumford, so it'd have been an awkward occasion anyway.
The Best International Female Solo Artist is Rihanna. She took the the stage in a white rose-print dress that looked like a big upside-down strawberry milkshake. This was followed by Tinie's victory dance, a three-song medley of his biggest hits of last year that turned into an out-and-out rave, complete with explosions and lookalikes and all of the lasers in the laser shop.
http://www.youtube.com/watch?v=j2rj-kXdfdE
Meanwhile, the best British group is officially Take That. Their 20th (collective) Brit Award. It would've been quite an emotional moment, had Gary Barlow not elected to ruin their speech by shouting "Shabba!" — a joke it would take far too long to explain (involving Shabba Ranks and the comedian Peter Kay)… and isn't all that funny anymore.
And finally, the best British Album of the Year… it's Sigh No More by Mumford & Sons. No one has specified which year though.
After that, it's just a happy singalong between Cee-Lo and Paloma Faith (dressed as a red traffic cone) dueting on "Forget You." He broke her dress at one point, but only the train. A wardrobe malfunction, but a classy one. That's simply how we do it nowadays, for better or worse.
http://www.youtube.com/watch?v=fLvQBlurSHM
Has British music had a good year? Tell us your thoughts.
Read More
Filed Under: