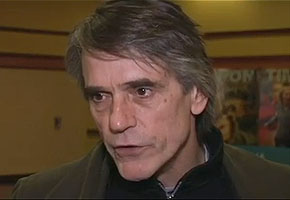 Jeremy Irons wants The King's Speech star Colin Firth to take home the best actor Oscar on February 27. "Because he's a colleague and he's English," he jokes.
He says, "I'm a huge admirer — and I think it's a rare performance — exceptional, very moving.  You forget immediately that physically he's not very like George VI, and he lets you into his soul in the most wonderful way I think."
High praise indeed from a man who won a Best Actor Oscar twenty years ago for his role in Reversal of Fortune.
Based on his own experiences, Irons doesn't think winning an Oscar necessarily transforms a career: "It doesn't at all, it's one of those wonderful, sort of volcanic moments in a career, but when it's over, it's sort of over and you continue as you always have done, hopefully."
Irons was speaking to me at the premiere of the documentary of The Last Lions in which he narrates the true story of a lioness in Botswana trying to take care of her cubs and survive.
In today's New York Times (February 18), Manohla Dargis described the film as "one of the most urgent and certainly among the most beautifully shot documentaries to hit the big screen in recent memory." But Dargis went on to say that the film sensationalizes and sentimentalizes a tale of animal life and death.
I asked Irons if he felt an affinity for the lioness in the documentary because of his past involvement in the Disney film The Lion King in which he provided the voice of the evil lion Scar. He says, "The answer is no. I think the The Lion King is an iconic movie and wonderful. But what is extraordinary about this is what we are seeing on the screen are real lions behaving in their own habitat and that's complicated in an extraordinary way."
The Last Lions, which comes from the husband and wife filmmaking team Dereck and Beverly Joubert, is an effort to call attention to the dramatic decrease in the lion population.  It's estimated that fifty years ago there were more than 400,000 African lions; today there are less than 50,000.
Tom Brook's reports on cinema can be seen every Tuesday and Thursday morning on BBC America.
Read More
Filed Under: