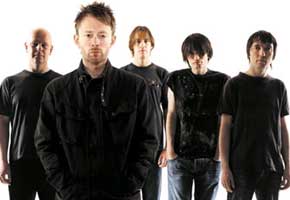 Fans who pre-ordered Radiohead's The King of Limbs in digital format earlier this week got a surprise wake up call on Friday (February 18). The band pushed up its release by one day, forcing countless loyalists to jump online and grab their mp3 or wav copy. XL Recordings posted the following statement on their website:
"With everything ready on their website, the band decided to bring forward the release by a day rather than wait until the planned date of Saturday, Feb 19 to deliver the music."
As previously reported, Radiohead announced via their official site on Monday (February 14) that a follow-up to 2007's In Rainbows would be made available for download on Saturday, February 19. Soon thereafter, NME revealed that its physical release on CD and 12-inch vinyl would be made available on March 29 in the U.S. The special edition "Newspaper Album" with tons of extra special artwork is still slated for May 9.
The King of Limbs tracklisting:
1. Bloom
2. Morning Mr Magpie
3. Little By Little
4. Feral
5. Lotus Flower
6. Codex
7. Give Up The Ghost
8. Separator
"Lotus Flower" marks the band's first video from The King of Limbs:
Did you download The King of Limbs? If so, please tell us your thoughts.
Read More
Filed Under: