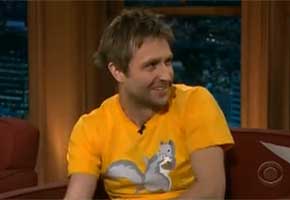 Any Doctor Who die-hards heading to Gallifrey One's Catch 22: Islands of Mystery a.k.a. the North American Doctor Who convention in Los Angeles this weekend? Keep your eyes peeled for Chris Hardwick. The 39-year-old American comedian and host of The Nerdist Podcast will be chatting with Whovians from around the world for The Late Late Show.
On Wednesday (February 16), Hardwick teased his forthcoming stint with host Craig Ferguson, who got in on some of the fun himself. Around the 5:11 mark below, Hardwick switches into fanboy mode, confessing that he'll be decked out as the Tenth Doctor, who we all know (and love) is David Tennant. Peter Davison, the Fifth Doctor and Tennant's soon-to-be father-in-law, will be there. Many other folks (screenwriters, producers, novelists, etc.) who've been a part of the Whovian empire will also be on hand.
http://www.youtube.com/watch?v=78YljyqWQG8&feature=player_embedded#at=29
As some of you might recall, Hardwick appeared alongside current Time Lord Matt Smith in an absolutely legendary episode of The Late Late Show last November.
Read More
Filed Under: