There have been all sorts of estimates about the positive effect the royal wedding will have on the UK economy, especially tourism. But internal research documents from Visit Britain, the government's tourist agency, have cast some doubt on that claim, The Guardian reports. "[S]uch as it is, the evidence points to royal weddings having a negative impact on inbound tourism," Visit Britain's research director wrote. But Sandie Dawe, Visit Britain's chief executive, is sticking to the increased tourism assertion, saying that tourists lured to England might not arrive until months or years after the  event. "It acts as a showcase for Britain that will turn into visitors in subsequent years," she said.
In other royal news:
– The latest bit of royal memorabilia is a smartphone case made
by proporta. "The universal pouch is truly a piece of Royal gadget bling, as it is made from real leather, and features a patent leather-style Union Jack design on the front," says Gadget and Technology News.com. The golden color case, with a slot for business or credit cards, sells for ₤19.95 ($32.00).
– Next Friday, February 25, Kate and William are expected to return to St. Andrews University, where their romance began a decade ago, The Mirror reports. The couple is launching the university's 600th anniversary celebration. They have also been invited to the St. Andrew's fashion show, where Kate allegedly first caught William's eye by modeling a see-through dress. AFP reports that the dress, which has been kept by its student-designer, is scheduled to be auctioned next month. It is expected to fetch a minimum of £8000 ($12,800).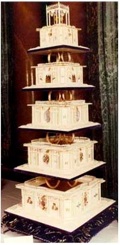 – Andrew Davidson's cake has fallen flat. Davidson's bakery, Classic Celebration Cakes, has supplied cakes for royal weddings for almost 40 years, including all four of the Queen's children. But not this time, NDTV.com reports. Traditionally, bakers compete for the honor of supplying a confection to royal weddings, free of charge. Often, more than one baker is chosen. Davidson's application was politely rejected this week. A royal couple's control of a wedding at this level of detail is going to require some adjustment. "They have more involvement with the wedding on this occasion, and perhaps she's choosing her cake maker and her dressmaker herself," said Liz Davidson.
Click here, or on the photo of Charles and Diana's wedding cake, for a slideshow of wedding cakes.
Read More
Filed Under: