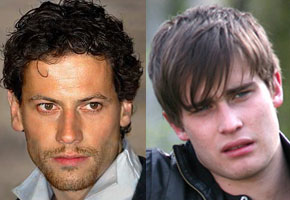 The British Invasion of American television has no end in sight: Ioan Gruffudd, the handsome Welshman best known for the Fantastic Four franchise and the Horatio Hornblower movies, is joining the CBS drama Ringer, billed as a comeback vehicle for Buffy the Vampire Slayer's Sarah Michelle Gellar.
As Deadline reports, the new pilot stars Gellar as "a troubled young woman Bridget who, while on the run from the mob, hides out by inhabiting the life of her rich twin sister, Siobhan, until she learns that her twin's life has a bounty on it as well." Gruffudd has been cast as "Siobhan's wealthy, well-traveled and cultured husband Andrew who senses something different about his wife."
Gruffudd is a talented actor who has been punching below his weight, appearing in poorly received films like the recent sci-fi thriller Sanctum. He's been teetering on the cusp of true breakout status for years. Will this new CBS drama finally signal his arrival?
Meanwhile, Christian Cooke, Luke van Velsing from BBC America's supernatural series Demons, is in final talks to appear in the Starz 10-part drama Magic City, Deadline reveals. The series tells the story of a Jewish-American hotel owner (Grey's Anatomy's Jeffrey Dean Morgan) who mixes it up with some seedy elements in late '50s/early '60s Miami. Cooke would play Morgan's law student son. Given the show's tropical setting, there will certainly be many opportunities for the sculpted Cooke to wander around half-naked, in keeping with his previous roles.
Read More
Filed Under: