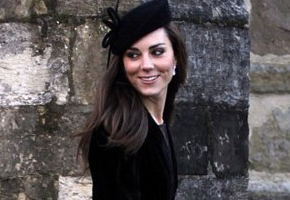 When Kate Middleton dined with her fiancé's stepmother, Camilla, on Wednesday (February 9), she enjoyed quite the healthy and delicious menu at London's Berkeley Hotel.
Middleton began with terrine of foie gras with baguette at $24 (£15), followed by roasted sea bass with fennel and black olive sauce at $45 (£28), and a pistachio souffle with ice cream for dessert for $22.50 (£14). No word on if she asked for two percent milk with her coffee. The Daily Mail noted that her choice of appetizer would not likely please her future father-in-law. Prince Charles has reportedly sworn off foie gras because of the cruel treatment of ducks and geese. (They are force fed to fatten their livers.)
In other royal news:
– The Mail also ran a 900-word dissection of Kate's overall luncheon look. The verdict is not favorable. "Kate seems to be at a crossroads. On the one hand, she's still clinging on to the slightly scruffy boots, thick tights and short skirts of her 20-something free-spirited days — on the other, she's also trying to get to grips with a smarter, more formal look. The two halves of this split personality are clashing."
– Imitation is the sincerest form of… art? Last Friday (February 4), we shared the news on Kate's fantastic Sex Pistols-inspired "God Save the Future Queen" poster. Now Kate and Prince William have been turned into sneering Sex Pistols bassist Sid Vicious and his girlfriend, Nancy Spungen, The Daily Mail reports. British artist Rich Simmons has made a mural depicting William with ripped jeans, leather jacket, spiked hair and dog collar. A cheery Kate wears fishnets, white miniskirt, leather jacket, fingerless gloves and hoists a cigarette. The couple stand against a backdrop of the Union Jack with the words "Future King" and "Police swoop the palace" stenciled above.
– How many toasters and blenders does the royal couple need? The Australian delves into the delicate issue of how Kate and William are handling the avalanche of gifts. Ever sensitive to commercial exploitation, the couple is returning gifts from British merchants. "They don't want to have a sense of obligation," a palace official said. "If they wear something it might imply an endorsement." Gifts from individuals are graciously received, and either stored away, shared with someone, or "occasionally" donated to charity. Among the gifts Prince Charles and Diana received in 1981 were a silver-plated mousetrap and a piece of crocheted lace made from yarn courtesy of Mahatma Gandhi.
– A gift for the newlyweds is a political issue in Berkshire county, located about 60 miles east of London. The Lord Lieutenant of Berkshire, Mary Bayliss, wrote to all the towns in the district, asking them to chip-in to buy a silver dish. The Cold Ash Parish Council, which borders Kate's home parish of Bucklebury, unanimously rejected the idea. "If we send a silver dish, it's not going to be used on their dinner table and they are not going to think of Cold Ash. It will be wasted," councillor Richard Crumly told Newbury Today.
– Meanwhile, other politicos are hoping the good feelings the wedding generates last for at least six days. On May 5, Britons will vote on a referendum to change the method for selecting members of parliament. Those favoring approval of the plan believe the wedding will give them a tailwind. "Around the wedding it will be a coming-into-summer, more optimistic, more of a yes mood," a campaign source told The Guardian.
Read More
Filed Under: