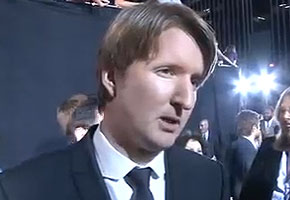 The Oscar-nominated director of The King's Speech, Tom Hooper, says he will collaborate with Colin Firth on a future project.
No specific details have yet emerged but Hooper is determined to enter into another joint endeavor with Firth in the wake of The King's Speech success. Hooper says, "We're already trying to work out what it would be. I love him so much, and he's such a fantastic collaborator, and I feel like part of the success of the film is something to do with our chemistry as an actor and a director, which is very exciting."
Tom Hooper is one of Firth's biggest fans — he was very impressed by the actors approach during the making of The King's Speech. With Firth he says, "It's all about the work. He's very, very bright and he's very good on script and story and structure. I could talk to him about anything, any aspect of the storytelling. And I love it when actors become true collaborators on the mission of the storytelling, not just what they're doing as a character. It makes it very exciting."
These are heady times for Hooper. Not only does he stand a very good chance of taking home the Best Director Oscar, he's also being flooded with work offers: "I'm getting sent everything under the sun now, and the struggle is to actually read the scripts while all this whole awards season craziness is going on. So, there's lots of people gently going, "Have you read my script yet?" and I'm having to come up with excuses. Lucky Tom!
Tom Brook's reports on cinema can be seen every Tuesday and Thursday morning on BBC America.
Read More
Filed Under: