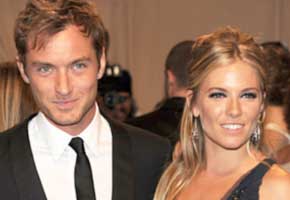 Despite giving their love another go, it seems that Jude Law and Sienna Miller just aren't meant to be. People reports that the couple split "several weeks ago."
"It is mutual and amicable and they are still friends," confirmed a friend. "It was an entirely an end-of-the relationship decision. It had run its course." A spokesperson for Law also confirmed the break up.
The 38-year-old Academy Award-nominated actor, who will reprise his role of Dr. John Watson in Guy Ritchie's forthcoming Sherlock Holmes sequel, first met the 29-year-old British-American beauty on the set of Alfie in 2003. By the following Christmas, they were engaged, however they would eventually break things off in 2006. But In 2009, after finding themselves both on Broadway at the same time — Law in Hamlet and Miller in After Miss Julie — their romance heated up once again.
Read More
Filed Under: