Is this all some sort of post-colonial payback? Has a gang of rogue Brits suddenly descended upon Hollywood and replaced our American-born gods with UK ones? At Anglophenia, our longstanding tagline has been "British culture with an American accent." But over the past month, Britishness has so thoroughly permeated American pop culture that we can hardly tell the difference between the two.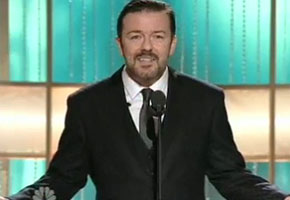 This January, we've gasped as British comedian Ricky Gervais roasted Hollywood's sacred cows as host of the Golden Globes, which featured a parade of Gervais' compatriots — from Tilda Swinton and Dame Helen Mirren to Idris Elba and Helena Bonham Carter — as presenters and nominees.
We've watched as the British period drama The King's Speech and its star Colin Firth became locks for next month's Academy Awards.
We've witnessed three major American remakes of British television series premiere in short succession, and saw one lavish imported costume piece, Downton Abbey, create a stir on PBS' Masterpiece Theater.
We've seen Piers Morgan, a controversial British journalist best known for scolding talent show contestants, thrust into the spotlight as the new face of the ratings-challenged CNN.
And just this week, it was announced that a UK-based heartthrob, Tudors star Henry Cavill, would play Superman, making him, alongside Batman's Christian Bale and Spider-Man's Andrew Garfield, one of three British actors playing America's holy trinity of superheroes.
What's happening? Might we be in the midst of another British Invasion? One could argue we're looking at an all-out assault.
THE SECOND BRITISH INVASION?
Past "British Invasions" have been musical in form: the Beatles-led rock explosion of the '60s was the powerful opening salvo that changed popular music, with smaller versions echoing in the 1980s (New Wave and synthpop) and the mid-90s (Britpop and the girl power of the Spice Girls).
This current iteration has been centered around television and film and has been slowly bubbling up this past decade. Englishman Hugh Laurie's overwhelming success with the top-rated Fox drama House ushered in a slate of British acting talent on American TV, while the British formats behind the massively popular American Idol and Dancing with the Stars had networks hungrily looking across the Atlantic for the Next Big Thing. And BBC America has proven instrumental in introducing UK series like The Office (remade into the top-rated NBC sitcom) to American audiences, and, yes, more than likely, a few Hollywood execs.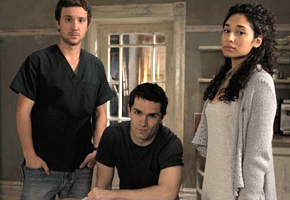 January has seen a bumper crop of U.S. premiere shows based on British telly favorites, most of which have aired on BBCA. On the same night (January 17), Syfy premiered their Boston-set version of the BBC supernatural drama, Being Human; CNN debuted Piers Morgan Tonight; and MTV unveiled its much-discussed adaptation of the UK teen series Skins.
Showtime, which has previously embraced Blighty-based programs like Secret Diary of a Call Girl, has remade the bawdy British dramedy Shameless with William H. Macy as the show's lead. And in a brilliantly meta move of self-awareness, the premium channel has launched the new Matt LeBlanc star vehicle Episodes, a sitcom that lampoons the very phenomenon of adapting UK series.
All of the above series debuted to excellent ratings, suggesting there's a healthy appetite for American adaptations of UK shows. The remakes will keep on coming: MTV is developing a U.S. re-imagining of the teen Brit-com The Inbetweeners, and Simon Cowell, who departed his American Idol judging role last May, will bring his popular British talent show X Factor to Fox this fall.
TRUTH, JUSTICE…AND THE BRITISH WAY?
In spite of the flurry of UK-originating shows on U.S. TV, it is Henry Cavill earning a role as the Man of Steel that is forcing us to take stock of the Britishness all around us. We already have Welsh-born Christian Bale as our incumbent Batman, and English-American Andrew Garfield, white-hot off his role in The Social Network, has slithered his spindly frame into the Spider-Man suit previously worn by Tobey Maguire, a full-on Yankee. One British actor playing an iconic American superhero is an anomaly, two is an oddity. Could three be considered a trend?
British actors playing high-profile U.S. roles is nothing new — hell, three of the four leads in that most American of films, 1939's Civil War epic Gone with the Wind, were British or British-American. And the door clearly opens both ways: NYC-born Robert Downey, Jr. currently portrays the UK literary icon, Sherlock Holmes, in Guy Ritchie's new franchise, and Texan Renée Zellweger practiced a posh accent to play lovelorn Londoner Bridget Jones. And Meryl Streep will give her famous skill for accents a test when she plays former British Prime Minister Margaret Thatcher.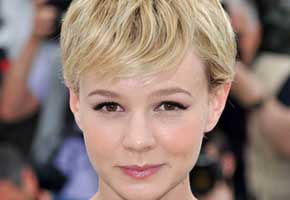 And, granted, Cavill's role could have easily gone to Americans like White Collar's Matt Bomer or True Blood's Joe Manganiello, but in the end, producers went with the Brit. To prove that Cavill isn't an anomaly, the website Bleeding Cool lists the numerous comic book heroes played by UK-born actors in recent years.
One must also note Robert Pattinson's conquest of the U.S. teen audience as Twilight vampire Edward, Alex Pettyfer in the upcoming I Am Number Four, and more recently, Doctor Who graduate Carey Mulligan's casting as Daisy Buchanan in Baz Luhrmann's new envisioning of The Great Gatsby.
We must ask what everyone is asking now — Why? The question about TV formats is easier to answer: Hollywood is looking for tested ideas, and the economic model of British TV creates such a volume of quality scripted and reality TV that it makes an excellent incubator.
But why are Hollywood studios hiring British actors to fake accents that come naturally to homegrown stars? Why didn't CNN conduct an internal search for Larry King's replacement, opting instead to hire a former British editor of The Daily Mirror? Is it cheap labor, as the New York Times posited back in 2007? Is the industry grasping for fresh faces and perspectives? Are UK actors, many of whom are theater-trained, simply better and more versatile than their American counterparts, particularly the younger ones?
Well, if the part of Lois Lane goes to Gemma Arterton or Felicity Jones, U.S. theater grads will have some major cause for alarm…
Read More
Filed Under: