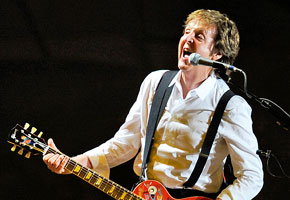 It looks like Florence + the Machine might have a little competition when it comes to serenading Prince William and Kate Middleton during their upcoming royal reception. The Daily Star reports that Wills and his lady love want Sir Paul McCartney to do them the honor of singing a few tunes.
"William and Kate have chosen their wedding list and Paul McCartney is their No. 1 choice to perform," a source revealed. "They can't think of anyone more perfect to kick off proceedings."
The Beatles star is apparently up for it, too and "feels very privileged" to have been asked in the first place. An insider added that the Prince is highly likely to follow "in his mother's footsteps by inviting a host of her famous friends to join him on his wedding day." Hmmmmm? I wonder who else is being considered?
A Buckingham Palace representative has quietly dismissed the notion that Macca will be in attendance to sing, saying "none of it has been finalized." Well at least that's not a total "no."
On Wednesday (January 5), Prince William and Kate shared a few details pertaining to their April 29th nuptials, including who will oversee their 11 am ceremony, their post-wedding activities and more.
Read More
Filed Under: