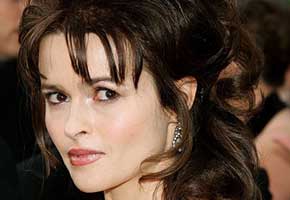 You have to hand it to Helena Bonham Carter. The 44-year-old English actress certainly floats her own boat when it comes to fashion and the like. Did you see her all dolled up in Vivienne Westwood, mismatched shoes and all, at last Sunday's (January 16) Golden Globes? No one does it like she does and we absolutely adore her for it!
And unlike many of her professional peers, The King's Speech star recently told The Daily Mail that she has no plans of ever going under the knife to preserve her youth, as "her face is her fortune."
"Age is underrated," she said. "I think what's happening is that directors and the studios want actresses who have natural looks, who haven't had any work done. I know some actresses who have had bits of work done and it's so good you can't tell."
She added: "The problem is that now the high-definition camera can tell, so it's best to leave your face alone. Look at Judi Dench. She's beautiful. Talk about her face being her fortune! She never stops working. That's what I want for me."
The divine Helena does address the notion that it can be somewhat trying for an actress to land good roles as she gets older, however she believes her career will only thrive should she stay away from things like Botox. "There's beauty in an older woman," she said. "The lines represent something. I couldn't have played the Queen Mother if I hadn't been able to move my face."
Right on, Helena!
Read More
Filed Under: