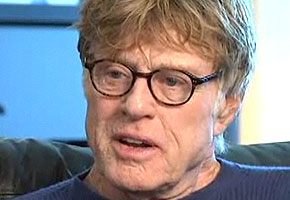 Through the Sundance Channel, Robert Redford has already established the Sundance brand internationally. Now he's told me he wants to take Sundance directly to Britain. He's been exploring an arena for what he said would involve bringing  "American stories to London, and it would include music. And it would include television. It would include film." Watch clip:
Redford – who is 74 –  also maintains that he has no personal vanity about acting as he gets older. He's dismayed by Hollywood stars who try to retain their youth.  According to him, America "is so obsessed with youth, and whatever it takes to maintain youth, that you have cosmetics that have played such a role that you have people looking like androids." Watch clip:
Redford wants to continue to work in front of the camera – in addition to directing. He says: "I would like to be in front of it more than maybe a lot of people probably realize." Seeking clarification, he points out that "a lot of people feel I've stopped and I haven't. I have been selective in the past, and probably still am, but I would like to act." Watch clip:
Tom Brook's reports on cinema can be seen every Tuesday and Thursday morning on BBC America.
Read More
Filed Under: