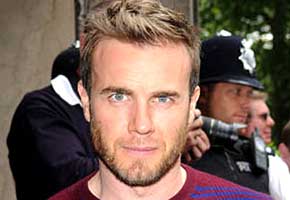 Longtime Take That fans a.k.a. Thatters got their wish last year when Gary Barlow, Mark Owen, Howard Donald, and Jason Orange finally reunited with Robbie Williams. But according to founder Gary Barlow, the best-selling boy band is still a four-man act in his eyes.
The Sun reports that the cherubic English crooner stopped by BBC Radio 2's Chris Evans Breakfast Show on Wednesday (January 19) to discuss what it's been like being back with Rob, the excitement surrounding their sold-out summer run of the UK and Europe, and more.
"Even moving forward, I know we're back with Rob right now but I still see our future as a four-piece band, " he told DJ Chris Evans. "We see Take That as a four-piece band in general."
Yikes! I wonder what Robbie thinks about THAT? Well, who knows what's being discussed behind closed doors. Either way, they've had a fantastic run of it so far with their latest album, Progress (recorded as a five-piece with Rob), selling more than a million copies in the UK.
But Barlow — who will celebrate the big 4-0 with a concert birthday bash at London's Shepherd's Bush Empire on Thursday (January 20) — did go on to say some very positive things about the band's current state. After all, Barlow explained that Take That's ultimate goal has always been to "give people happiness" through song.
"We're all in a fantastic place, we're very happy," he added. "Bands are difficult, it involves a number of people getting on and feeling a part of it. We're in a great place with this album. Everyone has been involved in every corner of it. We're excited for the tour."
For those keen on checking out the full interview, click here. Barlow's interview kicks in around the two-hour mark.
Read More
Filed Under: