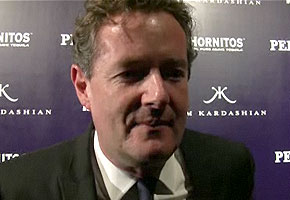 In our video interview, Piers Morgan told Anglophenia's Lindsay Davis how he was going to lure back viewers back to CNN. "What we have to do at CNN is make more noise, and that's why they brought a noisy little brat like me in."
All that racket has apparently paid off, at least for now. Ratings are in for his CNN launch last night, and nearly 2.1 million viewers watched him interview Oprah Winfrey for his premiere. 521,000 of them were in the highly-coveted 25-54 demo. According to a CNN press release, "This represents a +219% increase compared to CNN's 4th quarter average in total viewers (657k) and +206% more among adults 25-54 (170k)." Piers Morgan Tonight came in just a smidge below its timeslot rival, Fox News's Hannity, but soundly trounced MSNBC's The Rachel Maddow Show.
So, congrats to Piers! Turns out, the man's as charming as an interview subject as he is asking the questions. Check out our interview with him below:
This interview was conducted back in November at PERFUMANIA's red carpet event in New York City. There, Lindsay Davis also chatted with reality-TV starlet Kim Kardashian, who opened up about her love of British culture. Watch that interview here.
Read More
Filed Under: