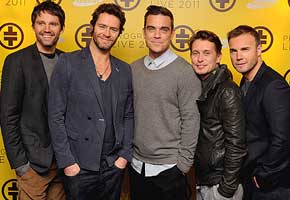 Take That mania, does it ever stop? England's best-selling boy band has recaptured the spotlight since reuniting with Robbie Williams in 2010. Their upcoming summer run of the UK and Europe has sold more than million tickets, while their latest album, Progress, has done equally well. Take That is here to stay, it seems.
Now, the University of Salford in Manchester, England wants to get in on some of the excitement. BBC News reports that the school will host a two-day symposium centered around Take That's monumental success come June. It's being described as "an interdisciplinary conference examining the theme of break-up and reunion in popular music acts, focusing on Take That." Attendees will also explore "the narrative structures [that] characterize Take That's journey." Um, this sounds super fun to me!
"A lot of interest is focused on Take That, and so we thought it right to investigate this phenomenon," said Tim Wise. Wise is a professor of popular musicology and music history at the University of Salford and he will be leading the discussion.
He added: "Take That were one of these manufactured boy bands, totally inauthentic in any way you can imagine, and I don't think anybody expected them to last for so long. Popular music is a serious business, and I think it's only right that people study it."
Wow! I wonder what Gary, Robbie, Mark, Howard, and Jason think about this?
Read More
Filed Under: