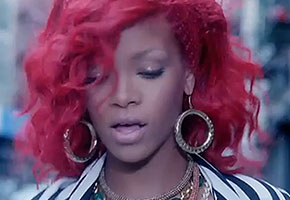 Rihanna singles are not released like other songs are. There isn't the same fanfare upon that you would get with, say, a Lady GaGa or a Britney, largely because she seems to put out a new video at the exact point at which her last single finally reaches Total Hit Forever status.
Or, to put it another way, if releasing singles were like warfare, Rihanna's the soldier who tends to re-fire the howitzer just before the shell hits the target.
In the case of "What's My Name?", the video was released just as "Only Girl In the World" was finally settling once and for all who was best between it and Cheryl Cole's "Promise This". In fact, it first entered the charts only three weeks after "Only Girl…" did.
That's when the video hit, and the downloads began. It was dribs and drabs at first, as the bloggers got excited, the tweeters started twittering, but for the most part everyone else was still marveling at the album in general, and wallowing in her luxurious new hair.
This is why it has been eight whole weeks between the song coming out and it finally climbing up to No. 1. Eight weeks in which the X Factor has been to No. 1 twice. And JLS. And the Black Eyed Peas. And even Rihanna herself. And now it's her turn again. And look! Here's Cheryl back for another go too.
Just don't be surprised if she uses this as the perfect opportunity to quietly stick another single out, while our attention is diverted elsewhere.
Also Happening This Week: Jessie J, who has only just blown the candles out on her Sound of 2011 winner's cake, has stormed up from No. 18 to No. 5 with "Do It Like A Dude". Which might seem like a self-fulfilling prophecy, had she not already tasted huge chart success with Miley Cyrus's "Party In The USA".
For the rest of this week's chart, Radio 1 has the full rundown.
Has the decline of the physical single made chart-watching more interesting? Tell us your thoughts.
Read More
Filed Under: