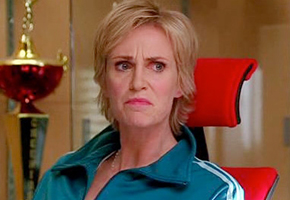 Oh Lord it's happening all over again. We've been clear for weeks…months even. And now The Infestation is back, maybe worse than ever before.
In retrospect, we should all have known it was coming. It's our own lack of vigilance which is to blame. All it takes is for there to be a quiet week in pop; one where everyone is either bracing themselves for the arrival of one enormous, unavoidable hit, or attempting to get out of its way as fast as is humanly possible, and it leaves a crack through which other songs can get through.
Songs such as the gussied-up sparkle-fancies that come out of a certain hit TV show, the one which is set in a high school performing arts society. And these songs do not come in isolation. Once one has sneaked under the fence and is in and settled, they tend to breed.
That aforementioned one enormous hit, by the way, is "Grenade" by Bruno Mars, a song which is essentially the same song as "Just The Way You Are," only at the end of the relationship, rather than the start. It was always going to be this week's No. 1, partly because Bruno Mars is about to release his debut album, partly because of "Just The Way You Are," and partly because it's rather grand.
Here's the video.
So, we are fine with Bruno, but what's this about an infestation? Well, Season 2 of Glee has just started on British TV, and that means that all of the songs are available for download. And THAT means we've got Glee cooties all over the charts.
The Top 40 only has two noticeable Glee blemishes: "Telephone" at No. 25 and "Empire State of Mind", ten places lower down. But it's in the grotty underbelly of the chart – from 40-75 where the real damage is being done.
"Listen" is at No. 51, and the Glee version of "Billionaire" enters the chart at No. 48, one place higher than the original. That's chilling, isn't it? It's like the newer version has eclipsed the older one, taking in its life force and living its life.
Which means it's only a matter of time before Glee catches up with the rest of Bruno Mars's output, and takes that over too. Their "Grenade" will replace his "Grenade," and then, having already taken over Madonna and Lady Gaga, and with Britney in their sights, they will move on, leaving nothing but a trail of body-glitter and fake tan in their wake.
I tell you, it's like Invasion of the Body Snatchers: The Musical around here sometimes.
For the rest of this week's chart, Radio 1 has the full rundown.
Is TV taking over all music? Tell us your thoughts.
Read More
Filed Under: