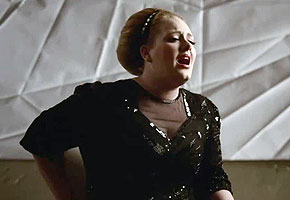 OK, no time to concoct a theory about this week's chart, as it is all change in the Top 10, with five new entries arriving and booting everyone else down a few places. Were it not for the imperious presence of Bruno Mars at No.1 for the second week running, you could call it a full-scale invasion. As it is, the barbarians are at the gates and Mars only has one "Grenade" for protection.
So, let's take a quick look at the unruly rabble who've suddenly arrived in the middle of the chart party and demanded extra nibbles.
At No. 2 there's Adele, glorious Adele, and her spirited attempt to sing the clouds from the sky – "Rolling In the Deep." Oh sure, it sounds like a rural answer to The Gossip's rusty punk disco, but since when was that a bad thing?
A brief leapfrog over Adele to No. 4 finds Diddy Dirty Money enjoying their highest chart position to date with "Coming Home". And they're a smidge ahead of Wretch32, a British rapper who was a nominee in the BBC's Sound of 2011 poll this year. His "Traktor" goes straight in at No. 5, one step ahead of Britney Spears. That's got to be proof that those Sound Of judges have a fair idea of what they are talking about, right?
Now, the thing with Britney's comeback song "Hold It Against Me" — apart from a shameless re-write of a similarly-themed song by Dr. Hook, which was itself based on a ridiculously cheesy chat-up line — is that it was originally supposed to be properly released in February. But as soon as downloads started to appear online, the fuss and froth around it – it's not a bad song, after all – meant that people were throwing copies around the internet like bouncy balls in a nursery. Hence the sudden hand-brake-turn into getting an official version in the shops as soon as possible. And hence the good-but-not-astonishing chart placing.
Our last newbie in the Top 10 is Aggro Santos, who UK viewers will have seen fluffing his hair like a big pillow on ITV's I'm a Celebrity… Get Me Out of Here, off the back of a couple of medium-sized hit singles. The fact that I had to explain both of those things does say a certain amount about Mr. Santos's essential charisma (basically, he could do with more). And even though he has roped in Kimberley Walsh from Girls Aloud to join him on "Like U Like," there's still a bit of a problem with remembering who he is and what he does.
Which, given that his first name is some very memorable British slang for "having a fight," could cause problems later in his career.
For the rest of this week's chart, Radio 1 has the full rundown.
What's your best cheesy chat-up line? Tell us your thoughts.
Read More
Filed Under: