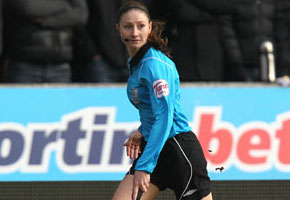 What's trending on Twitter in the UK today? Richard Keys and Andy Gray are still facing the consequences of their sexist remarks against female soccer referee Sian Massey.
Richard Keys, Andy Gray, and Sian Massey have been trending all week and remain hot topics today. Massey, the referee who was the target of Keys and Gray's sexist comments on Sunday, will not be officiating the Corby Town vs. Eastwood Town soccer match this weekend. The decision was made due to Massey's current celebrity status. A spokesman from the Professional Game Match Officials (PGMO) stated that the "focus needs to be on the football match, not the officials. It would be unfair to the clubs involved."
Meanwhile, now that Keys has quit following Gray's dismissal, they are both reportedly being sought after by Arab TV network al-Jazeera. Keys is rumored to be taking a meeting in Qatar about a very lucrative contract that could see him announcing the network's football coverage, with Gray possibly coming along.
Some tweets:
@Allwrighty: Sian Massey has been withdrawn from duty this weekend I think the longer this keeps happening the bigger the deal gets
@BlooMunKy: Sian Massey stopped from officiating at the weekend because of the media furore [sic] in the wake of graykeysgate.
@NJ_McLean: Sian Massey has been stood down from ref duties this week in light of sexism row. Are you saying she can't take it cause she's a girl?!
@tirrellcotton: Qatar-based Arab TV station Al Jazeera want to snap up former #SkySports football presenters Richard Keys and Andy Gray.
@DrMelesha: LOL – Andy Gray and Richard Keys in line for al-Jazeera job http://tinyurl.com/6fqogbe
@EdwardAdeshina: Slowly coming to terms with the departure of Andy Gray and Richard Keys. Sky will never be the same.
David Molofsky is the writer of the blog, A Place To Hang Your Cape.
Read More
Filed Under: