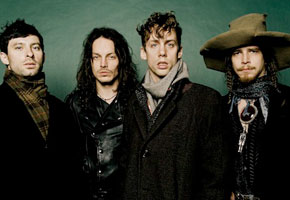 What's trending on Twitter in the UK today? Richard Keys and Andy Gray face off with some "dark forces" and get compared to Alan Partridge, while Razorlight and Force India debut their new members.
Richard Keys and Andy Gray vs. Dark Forces
Richard Keys and Andy Gray, British football commentators for Sky, are the talk of the town once more today, dealing with the fallout from their sexist remarks about a female referee earlier this week. A new video of Gray "behaving inappropriately towards co-presenter Charlotte Jackson" on YouTube yesterday, at which point Gray was promptly fired.
Meanwhile, Keys publicly apologized for his actions on the radio show Talksport: "We wholeheartedly apologize for our behavior. It was wrong. I deserve to be battered. I can stand up and take a beating. I'm not sorry for me, I'm sorry for [assistant referee] Sian Massey. I'd like to reiterate what I said to Sian Massey. I rang on behalf of Andy and myself on Sunday afternoon."
Keys has since blamed "dark forces" for what has happened since. Here's what people are saying on Twitter about the scandal:
@MFManUtd: Keys hints at "dark forces" in sexism row http://bit.ly/i3yXDA #manutd
@bglendenning: Things Keys has blamed thus far: dark forces, those hounding Sian Massey, Rio Ferdinand, the media , "banter", Karren Brady …
@geoffhillyer: Richard Keys interview this afternoon… "dark forces" at work apparently. Sounds obvious but don't think we've heard the last of this…
@hofflimits: I heard a female Assistant Referee is going to explain the Equality Act to Andy Gray and Richard keys using condiments on the kitchen table.
@Mickhodgkin: #Richard Keys says he's 'seriously considering his future'. In his own parlance, I'd say it's smashed.
@AledBryon: Richard Keys is the unfortunate result of a genetic experiment involving Alan Partridge, David Brent….and a Neanderthal @HanskiEllis
Alan Partridge
Meanwhile, several people have been comparing the football commentators' remarks to Steve Coogan's popular misogynistic character Alan Partridge. Partridge is a fictional TV and radio presenter who is known for objectifying and insulting women on his shows. Recently, the character was revived in the highly popular webseries Alan Partridge's Mid Morning Matters, the second series of which is scheduled to start next month. Some in the Twitter community have even called for Partridge to take over Gray's job as Sky's new commentator.
@AdAhmed25: Fascinating interview with Richard Keys on Talksport – sounded like Alan Partridge after equality training…
@RespectableGary: never mind Richard Keys interview on radio this afternoon, I think of Alan Partridge every time I here him speak.
@LucasPye: The Richard Keys "smash it" video is possibly my favorite of all time, as everyone has said it's just like Alan Partridge!
@punntz: Who will get Key's job then? Lineker? Chiles? Alan Partridge? #richardkeys #skysports
Razorlight
This picture of indie band Razorlight has been causing quite the stir! The band recently went through a big change when four of the original members left to pursue other projects, leaving lead singer Johnny Burrell to recruit some new talent. The latest version of the band looks quite different from its previous incarnations, with many wondering why the photo looks more like a publicity still from Pirates of the Caribbean 4 instead of Razorlight. The band is expected to deliver a new album soon. Will their sound change as much as their looks?
@thisisfakediy: Ladies and gentlemen, the highlight of your day: Razorlight's new press pic. Seriously. LOOK AT IT! http://plixi.com/p/72548407
@penny__lane: What the hell has happened to Razorlight? http://t.co/dVenTqL via @guardian
@okayfinemark: Razorlight look like fools [even] moreso now http://plixi.com/p/72548407
Force India
Force India, the Indian Formula 1 racing team, has just signed Scottish driver Paul di Resta and re-signed German driver Adrian Sutil. While di Resta was one of Force India's reserve drivers last year, he will now be leading the team, while Sutil has been on the team since 2007. Both drivers are optimistic about the new season and that the new team will be one to reckon with!
@NewsBooth: Di Resta and Sutil to drive for Force India http://bit.ly/gTJhjq #newsbooth
@Formula1: Q&A with Force India's Paul di Resta: One of the most talked about rumours of recent weeks was finally confirmed… http://bit.ly/fnNdcn
@Karlosfit2race: Congrats to @pauldirestaf1 on his drive at Force India. Well deserved and great to see another British driver on the grid!
David Molofsky is the writer of the blog, A Place To Hang Your Cape.
Read More
Filed Under: