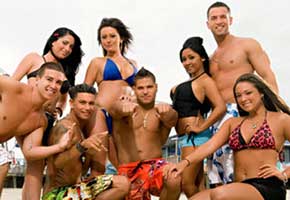 The popularity of MTV's Jersey Shore is its own beast and its reality TV reign thrives like no other. Its third season opened earlier this month to record-breaking numbers, and the third episode, which aired last Thursday (January 20), grabbed 8.9 million viewers to become "MTV's most-watched series telecast in the network's history". I suppose it's only appropriate that the UK get its own spin-off, right?
Well, MTV UK have revealed their big plans for Geordie Shore. Twitter is going absolutely bonkers over this.
Set to premiere this spring, Geordie Shore will showcase the north east English town of Newcastle and MTV UK says they're already keeping a look out for some of the city's "finest lads and lasses to star in the new series." Please tell me there's a Geordie Snooki out there hair poof and all, but with the sass of Cheryl Cole, a fellow Geordie. The Situation has to have his own Geordie doppleganger with a six-pack stomach to match. Either way, all kinds of assorted naughtiness and partying will certainly ensue. Hey, their official Facebook page is already championing that: "Lets [sic] show everyone Newcaslte really is the Party Capital of the UK!"
But how much with the UK version differ from its American predecessor? According to Kerry Taylor, the director of television for MTV Networks UK and Ireland, Geordie Shore will be "loosely based on the American show".
"Jersey Shore is set in the summer and it is always summer in the north east," Taylor said via The Guardian. "No one wears a coat and Geordie girls are always out in their miniskirts."
Read More
Filed Under: