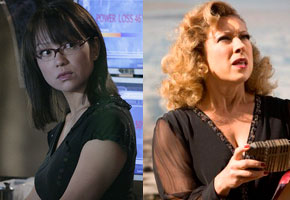 In this week's Tellyvangelist — your weekly guide to all that's British on U.S. TV — Torchwood star Naoko Mori checks into Private Practice, Alex Kingston gabs it up with Doctor Who fan Craig Ferguson, and an EastEnders star pops up on an American nighttime soap.
All times are in EST and are subject to change.
Monday, January 3
Get your laugh on tonight with IFC's airing of Monty Python and the Holy Grail at 8 pm or HBO's replay of Ricky Gervais: Out of England The Stand-Up Special at 10 pm. Or journey to Edwardian England with François Ozon's lush drama Angel, which screens tonight at 8 on Sundance Channel. It features Romola Garai as the titular character, an egotistical would-be novelist. "The talented Garai pulls out all the stops, giving a formidable performance," Leah Rozen wrote in her Anglophenia review of the little-seen art house flick. "She makes Angel into a vainglorious monster ('I won't change a single word or comma of my book,' she tells a prospective publisher), but gives her just enough vulnerability that we keep hoping the character will eventually see the error of pretensions."
Tuesday, January 4
Gareth Thomas, an openly gay British rugby player, will join The Ellen DeGeneres Show today. The gap-toothed Thomas is sure to discuss the proposed upcoming film about his life set to star Mickey Rourke. Rourke is said to be having his front teeth removed for the role, just for verisimilitude. Yikes. If true, someone really, really wants that Oscar.
Wednesday, January 5
Brits Cary Grant and Deborah Kerr — two of the most elegant and attractive stars of Hollywood's golden age — are featured in the 1957 tearjerker classic An Affair To Remember at 10:30 pm on Turner Classic Movies.
Thursday, January 6
Naoko Mori, who played the much-missed Toshiko Sato on Torchwood, is a guest star on this week's Private Practice (10 pm). Say what you will about Shonda Rhimes' uneven, often gimmicky plotting: the lady knows how to cast her shows. Mori is a raw, powerful actress who deserves a much higher profile.
Major Doctor Who fan Craig Ferguson welcomed Matt Smith to his couch just a couple months back. What will happen when River Song herself, Alex Kingston, sits down for a candid chat on Thursday night? Let's hope there's dancing.
Friday, January 7
For you Dr. Quinn, Medicine Woman fans out there, actress Jane Seymour is swinging by CBS Daytime to have The Talk with Julie Chen, Sharon Osbourne, and company.
In primetime, we have dueling wizards with Harry Potter's Daniel Radcliffe starring as Rudyard Kipling's soldier son in a re-air of PBS Masterpiece Classic's My Boy Jack at 9:30 pm. And there's the Season 3 premiere of the popular BBC drama Merlin on Syfy at 10 pm.
Saturday, January 8
TCM is airing 1957's The Prince and the Showgirl, which features the unlikely pair of British star/director Laurence Oliver and screen bombshell Marilyn Monroe (9:30 pm).
Sunday, January 9
EastEnders alum Robert Kazinsky — one of our British stars to watch in 2011 — makes his first guest appearance on the ABC drama Brothers & Sisters (10 pm). He'll play Dr. Rick, an "old flame" of Justin's girlfriend, Annie.
What will you be watching this week?
Read More
Filed Under: