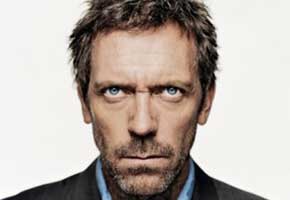 In this week's Tellyvangelist — your weekly guide to all that's British on U.S. TV — check in with Oscar-nominee Tom Hooper, see One eskimO and Bobby Long chill with Jay Leno, and treat yourself with a dose Hugh Laurie.
All times in EST and are subject to change.
Monday, January 31
Timothy Dalton just can't seem to stay away from Chuck. Can Team Bartowski finally take down Dalton's weapons-dealing Volkoff? Find out tonight!

Tuesday, February 1
Indie band One eskimO will be performing on The Tonight Show with Jay Leno. Tune in to see them play hit songs "Kandi" and "Homecoming".
Tom Hooper will be all smiles on Tavis Smiley today as he discusses his recent Oscar nomination for The King's Speech.
Wednesday, February 2
Jimmy Kimmel Live will welcome award-winning rapper Tinie Tempah onto the show tonight. Make sure you stay up to see Tinie perform hit single "Pass Out".
Thursday, February 3
Jay Leno must like cold-themed music because tonight singer/songwriter Bobby Long will be playing on the show to promote his new album, A Winter Tale.
Friday, February 4
Hugh Laurie will be rocking the house on The Tonight Show with Jay Leno as he talks about his recent double People's Choice Awards win and what's in store for everyone's favorite doctor.
Watch for Rob Brydon to tell Jimmy Fallon (Late Night with Jimmy Fallon) how he's feeling about making his stage debut alongside long-time Shakespearean actor Kenneth Branagh.
Saturday, February 5
Guy Ritchie's classic crime caper Snatch will be playing on G4 today at 3 pm and 11:30 pm. Don't miss this comedic look at London's underbelly, featuring Jason Statham, Vinnie Jones, Lennie James, and Stephen Graham.
The President and the Prime Minister have to face some tough, but still hilarious, decisions as they try to stay In the Loop about the war in the Middle East. Watch the movie, which was based on the hit series The Thick of It, on TMCe at 1:30 pm.
Sunday, February 6
Looking for a British, girl-power alternative to Super Bowl XLV? Check out Keira Knightley kicking-ass as model-turned-bounty hunter Domino Harvey in Tony Scott's Domino, on MOMAXe at 5:15 pm.
If The King's Speech left you wanting more Colin Firth, be sure to watch his first Oscar-nominated performance in A Single Man, on SHO2 at 10 pm.
What will you be watching this week?
David Molofsky is the writer of the blog, A Place To Hang Your Cape.
Read More
Filed Under: