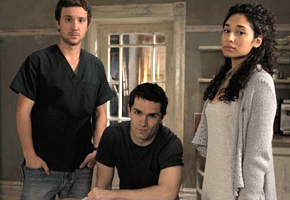 In this week's Tellyvangelist — your weekly guide to all that's British on U.S. TV — watch Piers Morgan as both a talk show guest and host, catch the monster-filled premiere of the American remake of Being Human, and listen to performances from The Script and KT Tunstall!
All times in EST and are subject to change.
Monday, January 17
The Tonight Show with Jay Leno will see what's cooking with Gordon Ramsay tonight.
Watch the premiere of Piers Morgan Tonight at 9 on CNN, with his very first guest, talk show legend Oprah Winfrey.
SyFy's brand-new remake of the hit BBC show Being Human premieres tonight at 9, and MTV's raucous reinvention of the teen drama Skins hits the air tonight at 10.
Tuesday, January 18
The Irish hit band The Script will be playing songs off of their latest album Science & Faith on The Late Show with Dave Letterman tonight.
Two Door Cinema Club will be using the short window in their North American tour to make an appearance on Late Night with Jimmy Fallon.
Wednesday, January 19
Former Frasier star Jane Leeves will be heating up the couch on The View today along with her Hot in Cleveland co-stars Wendie Malick and Valerie Bertinelli.
Don't write The Script off just yet! The band will be playing on Live with Regis and Kelly, marking their second performance of the week.
Thursday, January 20
Piers Morgan will have a host-to-host chat with Dave Letterman tonight. Perhaps the Late Show legend will have some tips for the British newcomer?
Cardiff-native Andrew Howard will guest star in tonight's episode of CSI.
Friday, January 21
Jimmy Kimmel Live will get a double dose of British talent tonight. First, Jim Sturgess will return to discuss his latest film The Way Back. After that, stick around to hear the latest from KT Tunstall!
Regis and Kelly will get to hear Jason Statham talk about how much he enjoyed getting his hands dirty in his latest film, The Mechanic.
The latest season of Gordon Ramsay's Kitchen Nightmares premieres on FOX tonight at 8!
Saturday, January 22
Now that the 23rd Bond movie has been officially announced, take a chance to catch up by watching #22, Quantum of Solace, on SHO2E at 8:30pm.
Sunday, January 23
Grab your coconuts and follow Arthur and the Knights of the Round Table on the most unholy of quests in Monty Python and the Holy Grail, tonight at 9 on IFC.
What will you be watching this week?
David Molofsky is the writer of the blog, A Place To Hang Your Cape.
Read More
Filed Under: