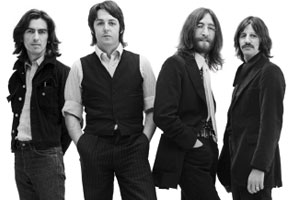 The Beatles have rolled into 2011 on a definite high note. The Hollywood Reporter reveals that the Fab Four have topped 5 million songs sold via iTunes. Additionally, the celebrated British quartet has pushed a million-plus full-length albums. Impressive!
"It's a good number [that] does not impact Apple's numbers in any way that's measurable, but still a nice print," said Hudson Square Research Analyst Daniel Ernst.
Back in mid-November, the Beatles finally made their iTunes debut after years of speculation. They went on to sell 2 million individual tracks and over 450,000 albums worldwide in just one week.
In other Beatles-related news, the band also rocked 2010 in vinyl sales. According to Rolling Stone, the Beatles' 1969 masterpiece, Abbey Road, was the year's "best-selling vinyl album". Woo hoo!
Here's a little "Get Back" for your Monday afternoon. Enjoy!
Read More
Filed Under: