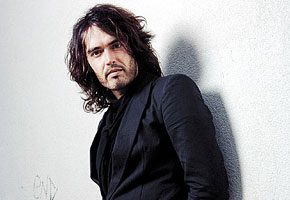 Comedian Russell Brand is reportedly in the running for a role in the screen adaptation of the Broadway musical, Rock of Ages. Deadline's Mike Fleming writes, "I'm told that Brand is circling the role of Lonnie, who runs the '80s rock club The Bourbon for owner Dennis (the role that Alec Baldwin is circling). Brand and Baldwin get to sing a rousing version of the REO Speedwagon tune 'Can't Fight This Feeling.'"
Brand has previously played a rock hero in Forgetting Sarah Marshall and its sequel, Get Him To the Greek. I'm sure wife Katy Perry will gladly help her hubby face the vocal challenges of a screen musical.
Set on L.A. Sunset Strip in the 1980s, Rock of Ages is a hair metal extravaganza depicting a love story between "a small-town girl" from Kansas and a budding guitar god. (Cue "Don't Stop Believin'.") In 2009, the Broadway production was nominated for five Tonys.
Adam Shankman, the sometime judge of Fox's So You Think You Can Dance, is directing, and gasp, Tom Cruise is in talks to play raunchy rocker Stacee Jax in the film.
Read More
Filed Under: