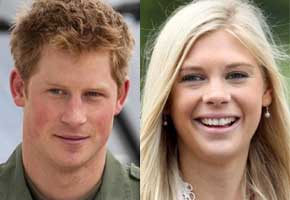 The Daily Express reports that Prince William and Kate Middleton's wedding could rekindle romance for another royal couple. The paper reports that Prince Harry, William's younger brother, has asked for a wedding invitation for his former girlfriend, Chelsy Davy. Harry and the Zimbabwean-born Davy, both 25, have dated on-and-off since 2004. They last parted in September, and Davy has been spending her time hiking in Africa. She will join a London law firm next fall. Will this reunion lead to another royal wedding?
In other royal news:
– You're young. You're rich. You're famous. You've marred a beautiful woman. Where do you go to honeymoon? Tahiti? Sir Richard Branson's Necker Island? Nope. You take your lovely bride to the Isles of Scilly. The Isles of who? The Isles of Scilly are an archipelago about 28 miles west of the southwestern tip of the UK. The Daily Mail reports the destination as fact, but they leave a little wiggle room. "The couple have reportedly drawn up a shortlist of British honeymoon destinations – because Palace officials don't want them going on an expensive foreign break while Britons see their living standards squeezed."
The royal newlyweds won't be visiting the Isles of Scilly for the weather: the average high temperature in May is a cool 57 degrees and it rains 14 days out of the month. The Mail also reports that Kate has yet to ask for her own coat of arms. Such things are a prerequisite for a royal marriage. A commoner, Kate's father must petition the College of Arms. The "Earl Marshal" rules on the application. Any bets on what the "Earl Marshal" will decide?
– No need to feel too sorry Kate, though. She will barely have her bags unpacked when she and Prince William will be off for a two-week tour of Canada in July, The Sun reports. For those who may have forgotten, Canada is a member of British Commonwealth and the Queen is Head of State. To some, the North American visit is considered a test for both Kate and William. "It is being viewed as a major tour and the first chance people will have to judge if William has chosen his wife wisely," a source told the paper.
– What's the skinny on Kate's slim figure? The Daily Telegraph reveals that Kate is a member of the Harbour Club, a swanky West London gym. The club has three swimming pools, indoor tennis courts, a spa and a hair salon. Members should get more than a few barbells for their $4,000 annual fee. The late Princess Diana was a member. Other UK personalities such as English actress Leslie Ash, the UK-based pop singer (and Simon Cowell's former flame) Sinitta, and the DJ Pete Tong also belong to the Harbour. And yes, Kate is toning up for the big day. "Kate was in the gym last week exercising with a friend for more than an hour," a source told the paper. "She looked in great shape – incredibly fit and slim."
– Call them the $1 billion nuptials. Bloomberg crunched some numbers about how much the royal wedding will add to the UK's economy. Bloomberg cites an estimate by Verdict Research, a UK retail research firm that claims, overall, the royal wedding could add £620 million to the country's GDP, or about $984 million. It's not as if everyone isn't trying to make the most of it. London hotels, expecting a surge in visitors, are boosting rates. A room at the Waldorf Hilton, a 15-minute walk from Westminster Abbey, will cost about $554 per night on Wedding Weekend. Normally, the room goes for $100 less. Don't like hotels? Rent an apartment for $2,400 for the week.
– Yvonne Yorke states authoritatively on The Huffington Post the wedding dress designer is "little-known." And, Yorke writes (drumroll please): "I can now reveal the designer is a young woman." Yorke does not explain why she could not share this vital information until this moment, but she also shoots down the easily-refutable report that Kate will spend the night before the wedding with her family at The Goring Hotel. Common sense tells one that Kate will be kept far away from the lenses of the prying press. Yorke offers the unsurprising news that Kate, like Diana and Sarah Ferguson, will spend her last night as a single woman at Clarence House.
Read More
Filed Under: