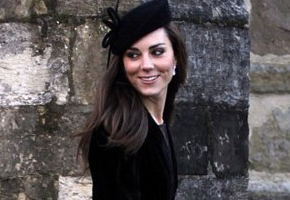 Kate Middleton is what they call a "fashion icon": everything from her hair to her blue Issa gown has inspired countless knockoffs in the two months since her engagement to Prince William. But retailers beware: don't go using the "Kate Middleton" brand name, lest you want to endure a pricey legal battle.
"A ban on suggesting that any member of the Royal Family has endorsed a product is now understood to extend to Kate, even ahead of her formal ­inclusion as a royal with her wedding to Prince William on April 29," The Daily Mail reports.
"There are no written rules, but courtiers said firms would be warned that they risk falling foul of trademark and copyright law if they use her full name on merchandise."
The day before her 29th birthday this weekend, Middleton attended a friend's wedding wearing attire a bit more fit for a funeral. She donned "a black velvet coat, black dress and black pill box hat," as BBC News reported. The Daily Telegraph notes the gown is from the London-based indie outfit Libélula and was designed by up-and-comer Sophie Cranston.
By championing a new designer, is Kate following in Michelle Obama's slightly boho footsteps? Telegraph writer Hilary Alexander suggests that's the case: "In selecting Libélula, Miss Middleton has once again decided to champion a highly desirable, but little known designer brand, much in the same way Michelle Obama has turned her First Lady wardrobe into a roll call of young talents."
Read More
Filed Under: