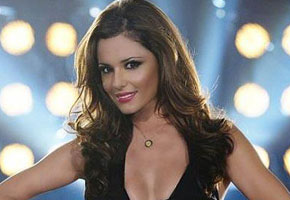 In recent months, the press has been promoting Cheryl Cole's gig on the U.S. X Factor as if it was a done deal. Not so fast. It seems that producers of Fox's remake of the popular British talent show aren't convinced that Cole will bring in stateside viewers.
The Sun reports that Simon Cowell is pushing to get Cheryl, a judge on Cowell's British X Factor, a place on his U.S. judging panel, but his fellow producers are pushing for the likes of Rihanna and Katy Perry — figures recognizable to Yanks.
A source tells The Sun: "Everyone thinks Cheryl has the judging job on U.S. X Factor in the bag.
"The truth is, nothing has been signed and the producers still aren't convinced.
"They are more keen to get a big U.S. star like Katy or Rihanna on the panel – someone who will bring credibility to the show and who is already popular in the U.S."
The gorgeous Cheryl has been a charmer on the British X Factor, but the hubbub surrounding her potential U.S. move has had many scratching heads. Why import an unknown British girl group member when there are numerous homegrown starlets here who don't need to build a profile? American Idol may not have been as successful early on without '80s icon Paula Abdul's involvement (and her subsequent on-air messiness, of course).
But on the U.S. X Factor, the charismatic Cowell would likely outshine any big-name talent they shove onto the panel. He's the draw for a U.S. audience. Chemistry between the judges is ultimately what producers should be struggling to achieve, and Simon and Cheryl have it in spades. As we saw on American Idol, the forced banter between Cowell and Kara DioGuardi was a massive fail, bringing the show to a screeching halt on a regular basis, but Simon's interactions with Cheryl have an entertaining lightness that is rare.
Although…if not having Cheryl on the U.S. X Factor means we can finally have another Girls Aloud record, I'll accept the sacrifice.
See previous article: Can Girls Aloud break America?
Read More
Filed Under: