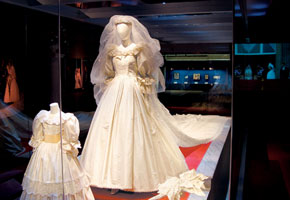 With all the build up to Prince William and Kate Middleton's big day, have you been wondering where Diana, Princess of Wales' wedding dress is? Look no further than the Grand Rapids Art Museum in Michigan.
Thousands have been flocking from across the Midwest to see Diana, A Celebration – a traveling exhibition from Diana's ancestral home in the English county of Northamptonshire. It features personal mementos, home videos of Diana as a child, and many of her famous outfits – including the most well-known dress of all, the one she wore on her wedding day back on July 29, 1981. It's displayed in all its glory — puffy sleeves and vast quantities of ivory fabric, with the 25-foot train laid out in full. A parasol made to match the dress, just in case of rain, sits in a glass case nearby.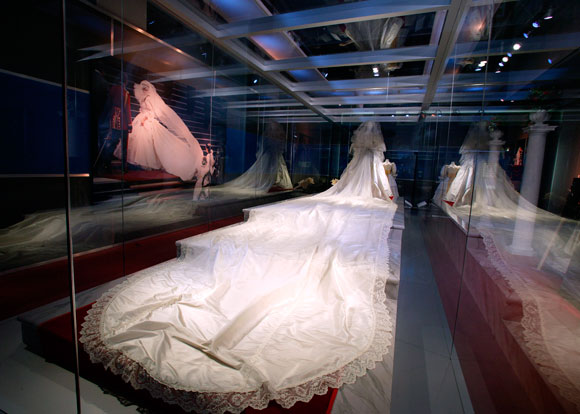 As they see the dress, visitors to the exhibition are instantly taken back in time, remembering how Diana, followed by her train, walked up the aisle of St. Paul's Cathedral that day. Many here can recall getting up in the early hours of the morning to watch the wedding on TV.
Pamella Roland DeVos, dress designer, philanthropist, and honorary trustee of the museum, was instrumental in bringing the exhibition here. A Diana fan, who got married at about the same time as Charles and Diana, she's watching the build up to William and Kate's wedding with great interest, both professional and personal.
"Diana's dress was very '80s, it had the sleeves and was overwhelming," she told me. "Kate won't do that." Pamella expects Kate to opt for long sleeves, with a fitted, Grace Kelly-style dress along with a full train – but not a 25-foot-long one.
Watch Laura Trevelyan's interview with Pamella Roland DeVos.
The exhibition records how Diana saw the wedding as the happiest day of her life. Yet those who have made the pilgrimage to Grand Rapids know only too well how the story ended.  Royal fan Meredith Hedeman came with her daughter, mother, and grandmother to pay homage to the woman she still sees as an inspiration. Coming face-to-face with Diana's wedding dress is awe-inspiring for her fans – their profound hope is that William and Kate will enjoy the happy marriage which eluded Diana.
Read More
Filed Under: