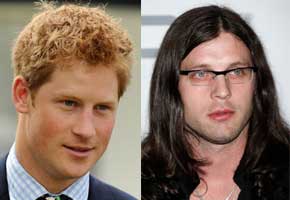 While his brother Prince William is busy hammering out plans for his forthcoming wedding to Kate Middleton, Prince Harry is rubbing elbows with the likes of Kings of Leon.
The Sun reports that the 26-year-old ginger prince recently attended one of the group's London concerts, where he and drummer Nathan Followill went head-to-head in a friendly game of table tennis backstage. But the prince wasn't a match for the Nashville-bred sticksman's ferocious skills.
"We're still pretty wide-eyed about meeting dignitaries but he's the cool prince I think," Followill said. "I'm not sure what the etiquette is when you play a prince at table tennis, but hey, I'm a king aren't I?"
Kings of Leon have also thrown their hat in the ring with hopes to performing at Wills and Kate's royal shindig. But as we reported on Thursday (January 6), Sir Paul McCartney is supposedly the only entertainer topping that list so far.
"Man, we would jump at playing the royal wedding if we were asked. Wills and Kate look like nice people," a wishful Followill stated. "But Harry is the dude. His is the wedding we would most likely play."
He added: "I'm sure Wills and Kate know what they are doing but Harry would definitely throw a Kings of Leon-style party."
Read More
Filed Under: