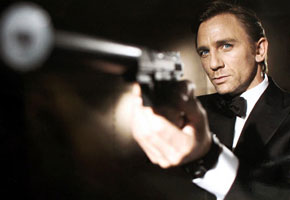 It's official: MGM has announced that the next film in the James Bond franchise is a go and will see a worldwide premiere on November 9, 2012, Deadline is reporting. Daniel Craig will reprise the role he last played 2008's Quantum of Solace, and Oscar-winning filmmaker Sam Mendes will direct. It's a minor miracle the next 007 installment is getting off the ground: the film has long been in limbo.
Craig hasn't exactly been laying on his couch eating Cheetos waiting for MGM to call him: he's been at work on David Fincher's U.S. remake of the Stieg Larsson novel The Girl With the Dragon Tattoo and co-starred with Harrison Ford in the upcoming sci-fi western Cowboys and Aliens. (And, reportedly, he even found time for a little winter-time romance with Oscar-winning actress Rachel Weisz.)
Deadline says that Bond 23, as the film is currently called, will need to find a distributor (MGM may not be it) and start casting. There have been hints that British stage actor Simon Russell Beale is being courted for a role.
Read More
Filed Under: