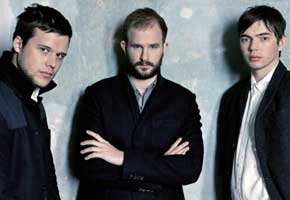 Out this week is the fantastic new album from London's White Lies. Produced by Alan Moulder (Depeche Mode, Nine Inch Nails), the 10-song set that is Ritual builds upon the swarthy alt-rock trio's 2008 debut, To Lose My Life… for a slick second introduction. It's synth-pop at its finest and songs like "Is Love," "Bigger Than Us" and "The Power & The Glory" make the band worthy of being added to Britain's post-punk revival canon. Their ambition is clear, as frontman Harry McVeigh hints on "Strangers": "I've got a sense of urgency/I've got to make this happen." I think they're certainly on their way.
"We're still a young British band," drummer Jack Brown tells The Daily Independent. "And there are still a lot of people who may have heard our name but not heard a record by us. Just because we have had people buy our record in the past, I don't think that means they will necessarily buy this album. But I would like them to because I think this record is more diverse and more exciting. It's a massive step for us."
"Bigger Than Us":
Also out this week: Welsh indie rockers The Joy Formidable give their crowd-favorite anthem "Austere" a nice grungy brush up. It's a fab teaser to the band's forthcoming debut, The Big Roar, which is out March 15 in the U.S. Loooooove!
In other music news:
– Next month, PJ Harvey will issue her long-awaited seventh studio album, Let England Shake. In promotion of the LP, Harvey has teamed up with video director Seamus Murphy for 12 short films for each song. Both "The Words That Maketh Murder" and "The Last Living Rose" are incredibly interesting. "I approached England as I would a foreign country, travelling [sic] alone with little equipment," Murphy says in reference to filming each clip. "I documented my experience in reportage style, using available light and real-life situations – this time with sound and pictures." (The Guardian)
– Duran Duran will celebrate their 30th anniversary in 2011 with the release of their 13th album, All You Need Is Now. They gifted us the iTunes version just prior to the Christmas holiday, but a proper physical album is set to arrive in February. Expect 'em to tour the world in support of it, too, as frontman Simon LeBon is raring to go. "I do get a little bit difficult to be with when I've been in the house for too long. I get itchy feet and I get grumpy." Um, did you know that LeBon's bandmates call him "Charlie"? (The Daily Telegraph)
– It looks like Kasabian's Tom Meighan might be resting his rock 'n' roll ways for a while. The scruffy singer is apparently gearing up to embrace his inner wrestler for a new British sitcom set in the '70s entitled Walk Like a Panther. Stephen Graham of Boardwalk Empire and This is England fame will also star. (The Sun)
– Scottish folk legend Donovan Leitch a.k.a. Donovan will be honored with a lifetime achievement award at the Radio 2 Folk Awards in next month. The "Mellow Yellow" singer/songwriter will also perform at the celebration. (BBC News)
– British house duo Basement Jaxx has signed on to score Joe Cornish's new sci-fi thriller, Attack the Block. Luke Treadaway (Heartless, Killing Bono) and Jodie Whittaker (St. Trinian's, Wired) have been cast in this peculiar adventure about a south London teen gang and their efforts in fighting off aliens. Comedic genius Nick Frost (Hot Fuzz, Shaun of the Dead) will also have a small part. The film is set to open in the UK in early April. (The Playlist)
– If you haven't heard by now, there's been tons of chatter about Kate Bush possibly releasing some new music this year. We could not be more excited, as dear KT is an Anglophenia favorite. A representative for the "Running Up That Hill" songstress has confirmed the news (!!!), but there's no word if it'll be a new album or a new song. It could be a greatest hits album for all we know, right? Bush's last official LP was the 2005 double-disc stunner, Aerial. Her song, "Lyra," was also included in the 2007 fantasy film, The Golden Compass. (NME)
For now, let's enjoy "King of the Mountain" from Aerial:
What are you listening to this week?
Read More
Filed Under: