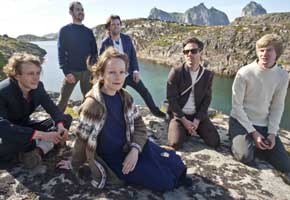 In the last decade, British Sea Power has consistently out-witted indie rock's shifty soundscape with their own quirky guitar-twisted blend of literature, history, and pop culture's best bits. No one else does it like they do.
The English collective's sonic storybook continues on their fourth LP, Valhalla Dancehall, out this week in both the U.S. and the UK. It's a fantastic exploration of "vintage Playboy magazines, population control, crazy golf, Dadaist artist Kurt Schwitters, hedonism, nature and 'French Hitchcock' Henri-Georges Clouzot," says The Guardian. Lush visions of southeast England's Sussex Downs and Scotland's Isle of Skye, where the 13-song set was recorded, are also very close. From the raucous riffage of "Who's In Control?" and the sprawling spookiness of "Mongk II" to the majestic 11-minute "Once More Now," British Sea Power remind you why they are the only British band that matters.
"Who's In Control":
"Baby":
In other music news:
– Last Saturday (January 8), Florence and the Machine surprised concertgoers attending Drake's Hammersmith Apollo show in London when she joined him on "Fireworks." Now our favorite English songstress is supposedly chatting up the Canadian R&B star to record a new song, which is could very well appear on Florence's follow-up to her Grammy-nominated debut, Lungs. HOT! (Spinner)
– Drum roll please. The title of Glasvegas's long-awaited sophomore LP is EUPHORIC /// HEARTBREAK \. What's up with all the slashes? Taking a little inspiration from M.I.A.'s // / Y / are we? Singer James Allan says it's meant to illustrate "the ascent, the crest of a wave, and then the crash." Ok, got it. Anyhow, be sure to visit the Scottish outfit's Facebook page or their official site on Sunday (January 16) to download their brand spanking new song, "The World Is Yours". (NME)
– British post-punk stalwarts Wire drop their 12th studio album, Red Barked Tree, in the UK and the U.S. this week. The Guardian praises the threesome's (founding member Bruce Gilbert left in 2004) solid stance three decades on, adding that sharp-edged standout
"Two Minutes" keeps with Wire's longtime mission: "Look askance at the modern world while making a clever racket." Um, yes …most definitely.
WARNING: Some lyrical content is NSFW:
Wire – "Two Minutes"
http://www.youtube.com/watch?v=U5WL_khq2AU&feature=related
– I guess there won't be a new Portishead album in twenty-eleven after all. Damn rumors! Founding member Geoff Barrow said: "Dunno where the news came from that we are releasing this year, unless like some other bands we get someone else to write it for us!" (The Quietus)
– Plan B is looking to turn his UK No. 1 album, The Defamation of Strickland Banks, into a movie at some point and he wants The Who's Roger Daltrey to be in it. In case you didn't know, the British rapper (born Ben Drew) is also a budding actor, having previously starred in a handful of British films like Adulthood, Harry Brown, and 4.3.2.1.
"I met him and told him I'd love him to do it," Plan B said of getting Daltrey involved. "Have you ever seen McVicar? He was the lead role in it. It's about this bank robber back in the '60s, who was in and out of prison and kept robbing banks. So I know he can act. He's really good. We're gonna go for the best British actors we can get." (Daily Star)
– Congratulations to Cerys Matthews! The Catatonia frontwoman recently married her partner/manager Steve Abbott in her native Cardiff, Wales. The couple have a one-year-old little boy named Red. Man, weren't "Road Rage" and "Mulder & Scully" the BEST? (The Metro)
What are you listening to this week?
Read More
Filed Under: