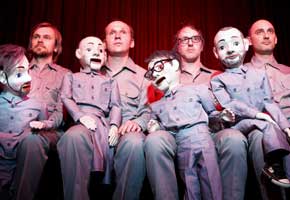 Brighton, England's Fujiya & Miyagi return with their first album in three years with Ventriloquizzing. It's another fascinating trip inside the foursome's eccentric electronic sonicsphere, but this time they joined producer/engineer Thom Monahan (Au Revoir Simone, Vetiver) in California of all places to draft their most peculiar and darkest set yet. From the sophisticated, rhythmic synths of "Pills" and "Tinsel & Glitter" to the slithering funk vibes of "Minestrone" and "Tawainese Roots," Ventriloquizzing should inspire you to strut your stuff. Even when David Best's unswerving vocals hint at a more sinister twist on "Sixteen Shades of Black & Blue," you won't want to miss a beat.
"'Sixteen Shades of Black & Blue":
"Minestrone":
http://www.youtube.com/watch?v=dgBukB3eq1A&feature=player_embedded
Also available in the U.S. this week is Gang of Four's Content — the English post-punk outfit's first set of new material in more than 16 years. Britain's UNCUT magazine gave it four stars and said it's "as vital and venomous as their incendiary 1979 debut Entertainment!" Stream the album in full via the band's official website. It's quite stellar.
In other music news:
– BBC Sound of 2011 champion Jessie J has finally announced details surrounding her hotly-tipped debut album. Who You Are will include her raunchy debut single "Do It Like a Dude" — which is still burning up the UK Top 5 for the third week in a row — and a duet with American rapper B.o.B. on "Price Tag." The 13-song set will drop in the UK on March 28, while U.S. fans will have to wait until April 12. FIN-AL-LY! (NME)
– Damon Albarn is lending his sister Jessica Albarn a helping hand by penning some tuneage that will coincide a short film adaptation of her children's book, The Boy in the Oak. And apparently there are hints of the Blur and Gorillaz frontman as a wee lad threaded throughout, too. "There are lots of elements from my childhood in there," Jessica said. "Let's just put it like that, shall we?" Jude Law will serve as narrator. We cannot wait for this! (The Daily Telegraph)
– English indie rock songster Patrick Wolf relishes in the warm optimism of love on his forthcoming fifth album, Lupercalia, out in May. I absolutely adore its first single, the divine new wave-tinged "Time of My Life," but its vibrant follow-up, "The City," (out March 14 in the UK) is just as lovely. The video was filmed on Santa Monica beach last December. And check out the Fred Butler Style blog for more goodies pertaining to the dreamy new clip and more. (The Guardian)
– Britain's Everything Everything stole our hearts last year with their infectious art rock style. We still cannot get enough "My Kz Ur Bf," which landed at No. 33 on our 40 Best British Songs of 2010 list. Now, they've taken on Rihanna's "What's My Name?" during a recent visit to BBC Radio1's Live Lounge. (ClashMusic)
http://www.youtube.com/watch?v=b3jDh5EA3Fs&feature=player_embedded
– Echo & the Bunnymen is coming to North America in May to play their seminal first two albums — 1980's Crocodiles and it's brilliant 1981 follow-up Heaven Up Here — in their entirety. I'm SO THERE! Seems like Ian McCulloch and Will Sergeant are into the nostalgia thing as of late. In 2008, the band celebrated their 30th year together with a series of live shows commemorating their epic 1984 LP, Ocean Rain. (Slicing Up Eyeballs)
Since it's late in the day on this new music Tuesday, here's a little vintage Echo & the Bunnymen for your liking:
"All That Jazz" from Crocodiles:
http://www.youtube.com/watch?v=40JzxKvz45Y
What are you listening to this week?
Read More
Filed Under: