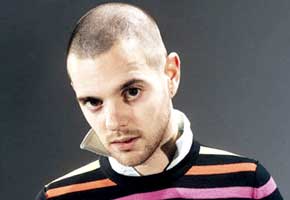 It looks like The Streets' Mike Skinner is giving up music for good. The British garage/rap mastermind recently told The Guardian that it's time to focus on other things, like being a Dad. No more of this music business stuff. No more interviews. Nada.
"As uninteresting as the Streets is to talk about, the most interesting element of anything is its death, so if you're going to talk about the Streets, ending the Streets is probably a good thing to talk about," he said. "But it's not interesting really. I haven't really got anything more to do."
While Computers and Blues (out next month) might mark the Streets' final chapter, it's not the very last we'll see of Skinner. He and longtime collaborator and manager Ted Mayhem are apparently working on a film together, one that Skinner likens as a "punchy thriller".
"It doesn't involve any kebab shops. Or drug binges," he explains. "The idea is to feel about something like I did at the beginning the Streets, when I didn't know what was possible. We're not going to obsess ourselves with screenings and openings. We've just got to make something that's beautiful – that's tense and interesting all the way through to the end. That's the core of art, sod everything else."
Oh dear, we are "Going Through Hell" … let's enjoy it:
In other music news:
– Take That really have the world at their feet again. Since reuniting with Robbie Williams last year, England's chart-topping boy band have taken X Factor by storm while grabbing the most successful UK tour sell out in history. As if that wasn't enough, Take That are now kings of Amazon UK thanks to selling a gazillion copies of their latest album, Progress. (The Metro)
– It's been nearly two decades since The Rolling Stones and Bill Wyman parted ways. But now the English bassist is hitting the studio with his old bandmates to remember their longtime collaborator and friend, pianist Ian Stewart, who passed away in 1985. Together, they'll conjure up their own version of Bob Dylan's "Watching the River Flow" for the Boogie For Stu tribute album. (NME)
– London indie pop outfit The Vaccines have revealed the deets for their anxiously awaited debut album. What Did You Expect From The Vaccines? will officially see the light of day on March 21 in the UK. CANNOT. WAIT! (NME)
– The Klaxons's 2010 LP, Surfing the Void, features a not-so-cuddly-looking cat stuffed into an orange astronaut suit on its cover. It's amazingly awesome and it's being hailed as last year's "best record cover" thanks to a public poll conducted by Art Vinyl. (BBC News)
– Tinie Tempah, who we championed as one of the Top 10 British Breakout Acts of 2010, has his eye on the U.S. And although he recently admitted that breaking America will be somewhat of a task, the 22-year-old London rap star is ready. (MTV)
Speaking of Tempah, check out his hot new remix of Willow Smith's "Whip My Hair":
– RIP Japan's Mick Karn. The English bassist died in London on Tuesday (January 4) after a brief battle with cancer. He's also known for working with ex-Bauhaus frontman Peter Murphy in Dali's Car and had previously collaborated with Kate Bush and Gary Numan. Karn was 52. (Exclaim!)
Read More
Filed Under: