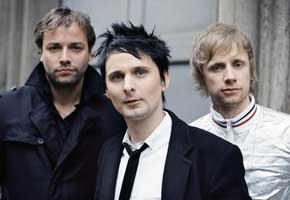 Muse may be one of the world's biggest stadium acts, but the English alt-rock threesome look to take that a bit further. And we mean a lot further, as The Sun reports the band's ambitious next move is to rock it out, cosmos-style.
"We've had some discussions about playing in space," frontman Matt Bellamy said. "Sometimes very coherent conversations and sometimes very late at night, but it's for real."
He added: "I'm thinking of approaching Richard Branson to see if we could do it on his spacecraft he's got happening."
Well if anyone can make it happen, it's Sir Richard. Perhaps the British billionaire will allow Muse to use his Spaceport America, the world's first commercial spaceport, to launch into orbit?
The band's massive stage show could pose some potential problems, though. How on Earth could Muse bring along their gargantuan TV screens and what not? Perhaps this is a job for The Doctor?
"Although we do have a lot of equipment, so I guess we'd have to use pods to carry our stuff and we'd scale back the shows a lot," Bellamy explained. "I don't think the spacecraft is like a Tardis, where we could get everything in we usually have. I do think it will be possible in the future and I'm sure it willl happen in my lifetime. We'd love to be part of that."
It seems like venturing into the universe isn't far from Muse's repertoire. Here are a few intergalactic tunes for your Monday afternoon.
"Starlight":
"Dead Star":
"Space Dementia":
Read More
Filed Under: