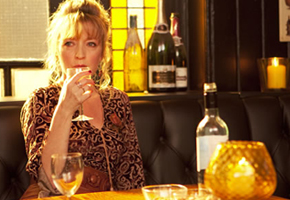 She'd won the National Board of Review award for Best Actress and raves galore from critics. So when the Oscar nominations were announced yesterday (January 25), why did Lesley Manville come up empty for her raw, riveting, critically beloved performance in Mike Leigh's Another Year? Here are some possible explanations:
2010 most competitive year for actresses in ages
Women in Hollywood often complain about the scarcity of roles for actresses. Starlets are often relegated to playing supportive wives and arm candy in movies, and female performers over a certain age are increasingly marginalized.
But a plethora of high-profile female leading roles last year resulted in the most competitive Best Actress field since the '70s heyday of Fonda, Clayburgh, Keaton, Burstyn, Dunaway, and Field. In addition to nominees Natalie Portman, Annette Bening, Nicole Kidman, Michelle Williams, and Jennifer Lawrence, there were much-loved performances from Hilary Swank, Noomi Rapace, Tilda Swinton, Kim Hye-ja, Julianne Moore, Rachel Weisz, and True Grit's Hailee Steinfeld (who ended up in Supporting).
Category confusion
Was Manville a lead and a supporting character in Another Year? (I'd argue she was the absolute heart of the film, much more than the almost-as-great Ruth Sheen's counselor character.) She won Best Actress at the National Board of Review, and Sony Pictures Classics promoted her as lead. But when BAFTA nominated her as a Supporting Actress, it was clear that the Academy might be divided over where to place her on the ballot. And a split vote can mean no nomination in either category.
Meanwhile, True Grit's Hailee Steinfeld was widely viewed as the lead of her film yet was promoted in the less crowded Supporting Actress field. Guess who got a nomination yesterday?
No SAG or Golden Globes love
Once both the Screen Actors Guild and the Hollywood Foreign Press Association snubbed her, a nomination was going to be an uphill battle.
Not quite enough critics' award love
In 2004, Imelda Staunton muscled her way to a Best Actress nomination for Mike Leigh's Vera Drake after winning nearly every critics' award that year. With only a handful of critics' trophies to her name, Manville lacked the same sense of Oscar inevitability.
Winter's Bone took the indie slots
There's usually one intimate arthouse film that dominates the Oscars a year, and this time it was Winter's Bone, which grabbed nominations for Best Picture, Best Actress (Jennifer Lawrence), and Best Supporting Actor (John Hawkes). Compared to the high drama of Winter's Bone — hell, even compared to Mike Leigh's previous Academy faves Secrets & Lies and Vera Drake — Another Year might have appeared a bit slight.
What did you think of Lesley in Another Year? Why do you think she was snubbed?
Related:
Interview with Lesley Manville
Leah Rozen's Review of Another Year
Read More
Filed Under: