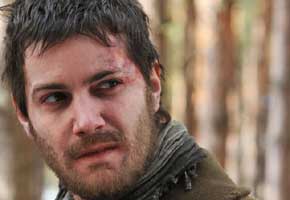 If ever stuck out in the wild, Jim Sturgess can trap, skin and roast a rabbit and improvise a crude compass using sticks and pinecones. The 29-year old British actor said he learned these handy survival skills while preparing for his role in The Way Back, an epic adventure tale – opening Friday, January 21 – that has been earning glowing reviews.
Not that the star of such movies as Across the Universe, The Other Boleyn Girl and 21 has much cause to go all L.L. Bean in his everyday life. "I'm not an outdoors person by instinct or nature. I'm more of a city person," said Sturgess, who lives in London but was speaking by phone earlier this month from Los Angeles, where he was promoting The Way Back. "Shooting this movie really opened my eyes to the joys of this world, to trekking through this planet we live on."
In the film, which was inspired by real events and is directed by Peter Weir (The Truman Show), Sturgess plays Janusz, a Polish military officer who's shipped off to a brutal Russian gulag in Siberia in 1939. Along with a handful of fellow prisoners (Ed Harris, Colin Farrell and Saoirse Ronan co-star), Janusz escapes and begins an arduous, yearlong, 4,000-mile trek to freedom.
The Way Back was shot over four months in Bulgaria, Morocco and India. "It was really special," said Sturgess. "It was more than just making a film, it was a life experience. I got to travel a lot, working and existing in incredible landscapes, and in cultures I'd never had the opportunity to see before."
Though he relished the experience, Sturgess concedes there were tough days. "The worst was the day I had severe food poisoning. I was in the middle of desert on a sand dune in Morocco with lots of flies and I'm dragging this pack behind me. I was ready to keel over. It was worst experience of my life, not just on the film. But how do you turn around and say, 'I can't do it?' You just do it."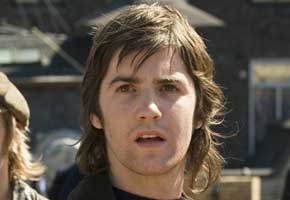 Since completing Way Back, the in-demand Sturgess has made two more movies, both due out later this year. The first is Upside Down, a romantic drama with Kirsten Dunst. "After The Way Back, which was so epic and so rich, it was like, 'What will I do now?'" said Sturgess. "Then I stumbled across Upside Down and it was so different, I realized that was the way to go. It's set in an alternative world, totally bizarre, unique, creative and artistic."
The second film is One Day, a love story co-starring Anne Hathaway, which is being touted as one of next summer's possible breakout hits. It's based on last year's best-selling novel by English actor-turned-novelist David Nicholls, whose first book was adapted to the screen as Starter for 10.
"I'd always been quite wary of doing a romantic comedy," said Sturgess. "They all seem the same to me. Then I read this and it was great. I thought, if you're ever going to do a romantic comedy, it should be this one."
One Day's script appealed to him because it skillfully balanced humor and pathos, though Sturgess said he and director Lone Scherfig (An Education) didn't always agree on which was which. "The scenes I thought were sad, she'd have me play funny, and the ones I thought were funny, she'd tell me to try sad. And she was usually right," he said.
When not making movies, Sturgess, a veteran of several rock bands, keeps busy with music. He said he and longtime girlfriend Mickey O'Brien (who has toured, playing keyboards and singing backup, with La Roux) have been writing songs and making demos, and are thinking maybe it's time to try landing a record deal. "We have loads of songs," he said, adding with a laugh, "now we just have to sift through them."
The Way Back trailer:
Across the Universe trailer:
21 trailer:
Read More
Filed Under: