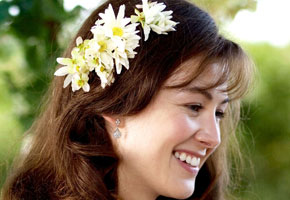 Tall, slim, and blond, Rosamund Pike may be one of England's fastest-rising actresses, but she's not one to believe in her own publicity.
"I don't read my interviews or Google myself," said Pike, 30, during an interview earlier this week while in New York City to promote her latest movie, Barney's Version, a comic drama costarring Paul Giamatti which opens Friday (January 14).
"Occasionally, when I'm feeling really low or need an ego boost, I'll read my eBay feedback, where people report whether you're a good customer. It'll say, 'Nicest person to deal with,' 'Responded quickly' or 'Paid her bills on time,' and that's praise enough for me," she said. (Her latest eBay purchase: an architectural drawing.)
Not that Pike needs an ego boost right now. Last week, her name showed up twice on the preliminary list of nominees for this year's BAFTA Awards (presented by the British Academy of Film and Television Arts). She is up for consideration both as Best Actress for her role in Barney's Version and as Best Supporting Actress for Made in Dagenham. "It's the long list," she cautioned, "which is still a long way from the short list."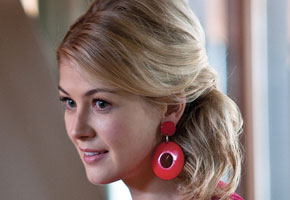 After graduating from Oxford, Pike made her film debut in 2002 as a sexy villainess in the James Bond film, Die Another Day. Since then, she has appeared in a dozen movies, including such popular British titles as Pride & Prejudice and An Education and has starred opposite such high-wattage Hollywood names as Johnny Depp in The Libertine, Ryan Gosling and Anthony Hopkins in Fracture, and Bruce Willis in Surrogates.
Oddly enough, it was her turn as a Bond girl that landed her in Barney's Version, a comic drama based on a 1997, semi-autobiographical novel by Canadian writer Mordecai Richler. "You never know what's going to lead to what," she said, with an amused shrug, explaining that Giamatti had seen her in the Bond film and had followed her career ever since. "So when the Barney's Version producers told him they were thinking about me for the role, Paul said, 'Look no further.' "
Version tracks the picaresque life of Barney Panofsky (Giamatti), a TV producer in Montreal who weds three times, drinks too much and doesn't know when to keep his mouth shut. Pike plays Miriam, Barney's third wife and the love of his life, whom he meets and falls for while at his own wedding to his second wife (played by Minnie Driver).
Pike is proud of the film, in which her character ages from 28 to 60. Miriam is based on Richler's real life second wife, Florence. "Miriam is pretty much a carbon copy of Florence," said Pike. "I met her and drank in her essence and wanted desperately to be liked by her because she's this very powerful woman in this very quiet way. She has beauty and grace and I tried to tap into that."
Pike's role in Version is her first as brunette. "It was wig, actually, three wigs of different lengths," she said, adding that she only wore them while on set. "So I really didn't get to experience life as a brunette."
She did, however, get a preview of what she may look like when she gets older, thanks to having aged on film with the help of make-up and prosthetics. "Soulfully, I felt like I could do it," she said of playing older, "but you also have to pull it off visually."
She ended up looking "a little bit like my mother, which was strange," she said. "I did say to my mother, when we went to the premiere at the Venice Film Festival, that everyone would be coming up to congratulate her because when I stood up, people would be going, 'Well, who's the blond chick?' "
Next up for Pike are a couple of comedies: The Big Year, which is about bird watchers and co-stars Owen Wilson and Jack Black, and Johnny English Reborn, a spy spoof (and sequel to a 2003 film) with Rowan Atkinson. She has also finished shooting a BBC mini-series of D.H. Lawrence's Women in Love, playing Gudrun, the role that made Glenda Jackson a star after the 1969 movie.
What's lacking on Pike's resume is an appearance on Doctor Who. Told of the enthusiasm of Anglophenia's readers for the TV show, she joked, "I regret, for the sake of this interview, never having played on Doctor Who. I have no insight into Doctor Who apart from seeing [Who star] David Tennant play Hamlet on stage, which I enjoyed very much."
Barney's Version Trailer
Made in Dagenham Trailer
http://www.youtube.com/watch?v=MCJ3Q_PcFI8
Die Another Day Trailer
Read More
Filed Under: