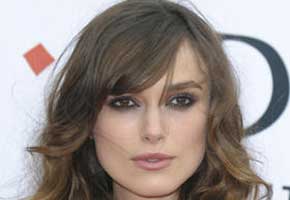 From time to time, Keira Knightley reminds us that she's indeed a human being with her own set of insecurities. In a recent Q&A with The Guardian, she playfully hinted at some while showcasing her usual loveliness.
When it comes to success, the newly single 25-year-old actress confessed how she's periodically struggled with the idea of what it means to be "successful."
"I had success very young," Knightley said. "I found that confusing and rather frightening for a long time. I didn't feel I deserved it."
But as she's proven over the years, success is something that follows Knightley quite nicely and she deserves it. In early February she'll return to the London stage for The Children's Hour. She's also gearing up to join Twilight's Robert Pattinson for Cosmopolis, which is slated to start filming in the coming months. Right now, however, she's perfectly content with being back in the West End, a feeling that she described as "alive."
"You go on stage, and you don't know what character the audience is going to have, and it's almost like improvising with a new person every single night," Knightley explained. "Film, you're second-guessing an audience because they're not there."
And when it comes to attending some of these Hollywood award shows, the Oscar-nominated star revealed that the thought of having to quickly string together a bunch of heartfelt accolades should she win something is downright nerve-racking.
"I couldn't imagine anything more terrifying than winning because then you'd have to get up and give a speech. I'd be sh** at that."
Oh Keira, we heart you!
Read More
Filed Under: